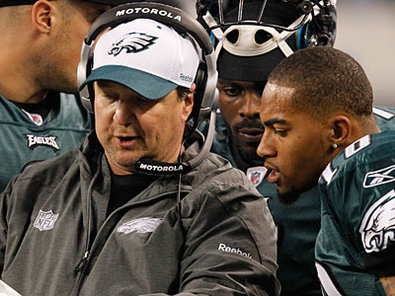 For the first time since 2007 the Philadelphia Eagles will not be participating in the NFC playoffs. We all witnessed the New York Giants beat up on the New York Jets in the early game on Saturday which put to rest any hope for the Birds to make it into the post season. At first my initial reaction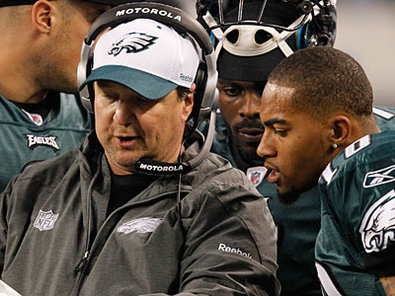 was anger and frustration with the Jets but when you look back on the way the season played out the Eagles have no one to blame but themselves.
They squandered opportunity after opportunity early on in 2011 and unfortunately began putting it together a little too late. I firmly believe if the Eagles would have made it into the post season they could have been one of the most dangerous teams in there and gone on a long run but this isn't the case.
The palace in Dallas was the setting for a hollowed Eagle victory this Christmas Eve and the Birds kept the momentum built previously against the Dolphins and Jets going all afternoon.
The receiving corps was balanced against the Cowboys. DeSean Jackson finished with 5 receptions for 90 yards and had some fantastic runs throughout the day. Jackson had 2 rushing attempts for 27 yards with his longest being an 18 yard end around. DeSean deserves credit because even after the team found out about their elimination he kept playing hard. He caught a few passes over the middle and wasn't fazed at all by anything.
DeSean clearly thrives when playing in the spotlight of big D. It's nice to see him putting it together but it's without a doubt a little too late for this season. We all are aware of DeSean's game breaking ability and going forward this team needs to have him in the lineup. He had a horrendous season compared to his first 3 but he played through a difficult contract dispute that had him severely underpaid. The Eagles need to do the right thing and extend a fair offer to him in the off season and bring him back. With a positive outlook and fresh start next year DeSean will be back to his usual self and show us more of the receiver we've seen the past 3 games as opposed to what we saw the majority of the season.
Jackson was asked about returning the team after the Cowboys game.  "That's out of my control," Jackson responded following the game. "Hopefully I will be. I consider Philadelphia my home, and the fans have embraced me and things like that."
It seems he's ready to get this year and his contract problems over with.
"If I had the power to do anything, maybe something would have been different, but I don't know, it's really out of my control," Jackson said. "I have a job to do, which is play out my contract, and with there being one game left, I felt I had to plan for this, so we'll just figure out where it goes."
Jeremy Maclin finished with 5 receptions for 72 yards and a touchdown. Maclin has been progressing every week since his return from injury. He appears to be back in full swing after this afternoon's performance. Maclin's longest reception of the afternoon was 22 yards. Maclin is a great number 2 receiver and his toughness and playmaking ability in the short passing game and over the middle is a great compliment to DeSean's speed and deep threat possibilities. If the Eagles were smart they need to keep Maclin and Jackson together because as we've seen this season when both are on the field together playing at a high level the receiving core is balanced and dangerous to opposing defenses.
Brent Celek was thrown to 5 times and came up with 2 receptions for 72 yards and a touchdown. Celek didn't quite have the performance he did last week against the Jets but he once again proved to be a solid option for Mike Vick. Celek's longest reception of the day was a 39 yarder. Celek has proven over the past few weeks he's a consistent option for Mike Vick and I foresee him only getting better next season and gelling even more with number 7. Celek has the ability to be mentioned with the top NFC tight ends such as Tony Gonzalez, Jimmy Graham, and Jason Witten. I look for more of the Celek we saw in the second half of the season next year when the Eagles get back at it.
Jason Avant was targeted 4 times and came up with 2 receptions for 35 yards. His longest reception of the afternoon was a 27 yarder. He did fumble a ball as well which is something we don't see often from the sure handed number 81. We thought he had a touchdown pass also but instead it was called back after being reviewed by the officials. For all the criticism Avant took throughout the season after his comments about the Eagle fan base earlier in the year after the first Dallas came he once again proved to be a consistent target over the middle of the field for the most part in 2011. He doesn't provide the glamour or big play excitement like some of the other guys in the receiving core but he's dependable. When we don't speak about him it's a good thing because it means he's doing his job. Not enough can be said about the reliable play he's provided over the years and Avant will continue to be a key ingredient for this team going forward.
Riley Cooper had 1 reception for 28 yards in Dallas but it was a reception that was a tough as it gets. Cooper went up for the ball with 2 Dallas defenders and came down with the ball and a head injury. Cooper has made strides this year and gave Eagle fans some other memories regarding him aside from the pass intended for him at the end of the playoff game last year against the Packers that was intercepted. Cooper showed great effort on his only catch against Dallas and I expect to see much more of this in the future.
Clay Harbor, LeSean McCoy and Chad Hall rounded out the receiving core in week 16. McCoy had 1 reception for 10 yards. Harbor came up with 1 reception for 9 yards. Hall came up with one reception for -3.
The Eagles receiving core was balanced and consistent throughout the day. This type of consistency didn't exist earlier in the season which is one of the many reasons this underachieving squad won't play on past next week. As much as some of us want change at the head coaching position it's only fair to bring everyone back for one last run next season. Right now we've seen 2 different teams in 2011, the one that's looked good winning the past 3 weeks and the team that squandered opportunities, turned the ball over, and blew 4th quarter leads early in the season. 2012 will be a decisive, final season for us to determine which is the real Eagles.
The receivers will play a big role and the front office needs to make sure they do whatever it takes to bring back the special talent they have in Jackson. These receivers operate as a unit and a well balanced one when firing on all cylinders. I'd like to see them finish strong with a win and another consistent performance at home against another division rival next week.
Clearly the Eagles are the best team in the NFC East and it's a shame they didn't take advantage of opportunities they had earlier in the season. The wrong team will represent the division in the NFC playoffs this season but you have to hope everyone involved realizes the lessons learned from 2011.
I expect nothing but big things from the Eagles next year as I do every year but realistically looking at it I see no reason this team can't be a contender in the NFC with everyone back and a full off season under their belt. These wide receivers are young and talented and the Eagles will only have themselves to blame if they decide to part ways with DeSean Jackson and stop them from flourishing as a group.