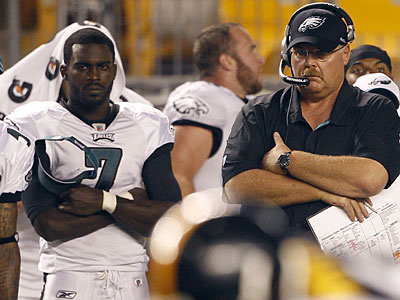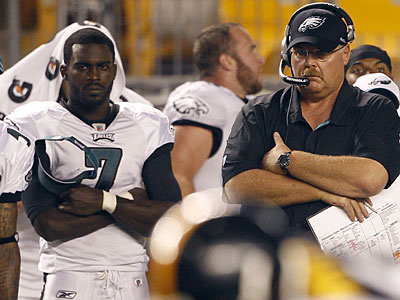 "Too little, too late." A bit much cliche? Maybe. Overused? Perhaps, but try and find four words better suited to describe these past few weeks, and you'll likely end up right where you've started, ready to face the facts. From start to finish, the Eagles were the better team in Dallas on Christmas Eve. They came to play, left as winners and they should be lauded as such.
The Eagles look like they've figured things out, but the time for that is usually around mid-season. With Philadelphia having not gotten things clicking 'til so late in the year, and with the wrong New York team having won at the Meadowlands, we are now left with a stark reality. The class of the NFC East will not be in this year's playoffs.
Ahead of the Dallas game, when Andy Reid was questioned regarding the Eagles failure to make a turnaround earlier in the season, he replied, "You don't look back, that's not what [we're] doing at this point." Fair enough, after all, the Eagles were heading into, what was at the moment, a potentially monumental game. Now however, there's no reason to buy any of that, in fact, quite the opposite. There's no prize to play for this weekend, which affords us the opportunity to have a retrospective take on the season, and a quick glance at what went wrong with this team.
To be fair to the team, playing without the most explosive quarterback in the league for three full games, not to mention the fourth quarter in Week 2 at Atlanta, proved to be a massive loss, particularly when Eagles will be missing out on the postseason by a small margin. However, there are many different aspects that derailed the Eagles' year, things that could have been avoided as easily as they were allowed to continue.
There's the hiring of the defensive coordinator that wasn't a defensive coordinator, which slowed down the already lengthy process of having a bunch of new guys gel and gave birth to the following sub-problems: Excessive use of the wide nine, complicating the cornerbacks' roles (raise your hand if you thought Nnamdi would be in his own world playing man to man all season… No? okay), and finally, to a lesser extent, Casey Matthews having a starting role early on. There were also issues with LeSean McCoy being underused, Michael Vick taking too many hits, and, at times, just sheer lack of ingenuity in the play calling.
Having outlined all this, it may be said that this assessment of perceived flaws is perhaps a bit too harsh on the team. Maybe, but if there's one thing, above all else, that there is to lament about this season, it is just how easily the division could have been won.
With all the troubles that the Eagles had, despite the many weeks filled with "Are they done or aren't they" talk, despite the fact that Philadelphia had exited the periphery of many fans' minds weeks ago, at the very least, when it came to playoff talk, the team still entered Week 16 with hopes of being division champs, and perhaps, were it not for a flukishly game changing Victor Cruz 99 yard-TD, they very well could have been.
But whereas "what if's" and "shoulda woulda could've's" are pointless to dwell on, what seems certain is that if there was any time for the Eagles to have a few stumbles on the road to the postseason, it was this year. Unfortunately and tragically, there were just more than a "few" trip ups for this team, and sadly just too much to overcome.
When Michael Vick says that the Eagles "would have done damage" in the playoffs, it's hard to disagree with him. After all, they look to be, pound for pound, a better team than their division rivals. But, although the last two games against the Giants and Cowboys serve as evidence, Philly's overall record simply doesn't, with the result being the NFC East's best team sitting at home in January. How unfortunate, and what a shame it is.