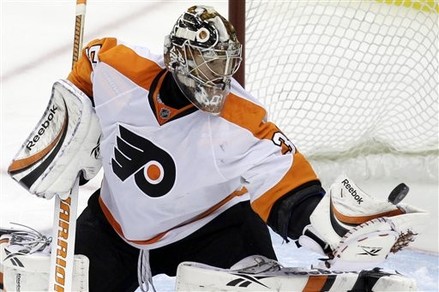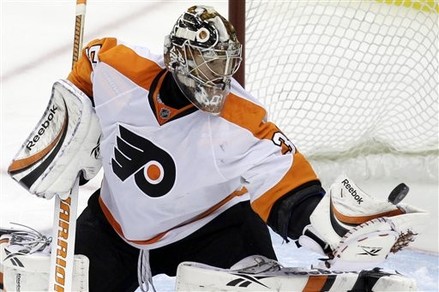 Flyers head coach Peter Laviolette called for a 9 a.m. practice on New Years Day. Whether that was the ensure his players didn't get too liquored up last night, to have the team get another solid practice in before tomorrow's Winter Classic, or a little bit of both is unclear.
What has become clear is who will start in net.
Stephen Whyno, Sam Carcidi, Dave Isaac and others all reported this morning that Sergei Bobrovsky will start in goal at the Winter Classic.
Laviolette wasn't the one to announce it. Neither was Bob, who seemed superstitious about saying it. It was Ilya Bryzgalov who announced it, saying that Bobrovsky "gives us a chance to win," according to Sarah Baicker of CSNPhilly.
Sarah also reported that Bryzgalov stated, "It's not the end of the universe for me."
UPDATE: The Puck Daddy blog has video of the entire interview. If you have 6 1/2 minutes to spare, it's worth watching.
Laviolette would have stirred more controversy if he had started Bryzgalov, so this news shouldn't come as much of a surprise.
Bobrovsky currently has a 0.914 save percentage compared to Bryzgalov's 0.890 and is coming off a strong outing against Pittsburgh. Tomorrow will be the first time this season that he faces the New York Rangers. He faced the blueshirts thrice last season- a 4-1 win, a 7-0 loss in relief of Brian Boucher, and a 3-2 shootout loss.
For the latest Flyers news and updates, you can follow me on twitter (@JoshJanet).