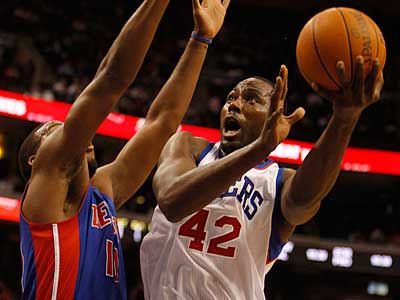 What a great night it was for the Sixers home opener. Wells Fargo was buzzing. You had the new intro video with past and present Sixers playing. How bad ass was that part when they showed Holiday, Cheeks and Iverson together. That was awesome.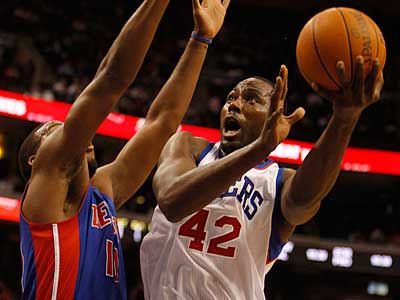 Then you have Doc in the building along with Moses, Bobby Jones, World B. Free and a surprise appearance by the "Boston Strangler" himself Andrew Toney. That might have been the first time that Toney was back since he retired. He had some bitterness towards the Sixers because of his foot injury. He blamed the Sixers for miss diagnosing his injury. Good to see that Toney is cool with the Sixers now. I felt the energy down their through the TV.
Man, I was pumped. Now if I only could get my three year old daughter to stop walking around and saying that she is a hooker. Yes, I know great parenting. Listen, she is trying to say that she is a hugger but hooker keeps coming out instead. Thank God she is only three.
Ok, back to the Sixers game. For some reason this team comes slow out of the gate but the still lead after the first 20-19 after shooting the ball poorly. This game had a little bit of sloppiness through out but thanks to Spencer Hawes and the fourth quarter of Jodie Meeks the Sixers pulled away and blow out the Pistons 96-73. Sixers held the Pistons to 36% from the field and 0-10 from three land. Here is what I noticed…
SIXERS
-Spencer Hawes. Umm, someone might want to name him an All-Star right about now. Wow. This dude is on a mission. Just when you thought you had seen everything from Spencer so far this season then he goes and leads a fast break for a score. As of right now I am done doubting him. You are the man Spencer. He finished with 16 points 14 rebounds 4 assists 2 blocks and Wells Fargo chanting his name.
-Jodie Meeks. Welcome to the 2011-12 season Jodie. He started off struggling with his shot again tonight. I will give him credit he did not pout or act frustrated this season with his early struggles. He just kept letting it fly. Boy, did he let it fly. BOOM. He had 4 points going into the fourth quarter until he exploded for 17 points in the fourth while knocking down 3 straight three balls. Nice to have you back Jodie and thanks for putting away the Pistons.
-Evan Turner. I know he only ended up having just 8 points and 8 rebounds but he was involved in the flow of the game again. He only played 25 minutes. They were a solid 25 minutes though. Man, he can really rebound the ball.
-Thad Young. Thad just brings a ton of energy. He was everywhere tonight. He gets a lot of dirty points for this team. He gets a lot of points off of broken plays because of his hustle. He is constantly diving on the floor and I love that.
-I have to give the Sixers CEO Adam Aron a major shout out. He is all over twitter trying to create buzz for this team and interacting with the fans. During the game he visited a ton of fans he talked to on twitter at there seats tonight. Good stuff Adam.
PISTONS
-The Pistons were missing Rodney Stuckey because of an injury and Bed Gordon because of personal reason. Honestly, even if they did play I really don't think it would have matter. The Pistons seemed to be at a crossroads right now. They have some high price vets like Gordon, Prince and Villanueva and they have some decent young guys like Knight and Monroe but they are on there way to being in the lottery. By the way how did Villanueva do tonight? Oh, he did not play. My bad. That dude has an awful contract for them.
-One of the young kids that the Pistons have who caught my eye was Jerebko. I like his game.  He is scrappy, has a decent shot and can handle the ball a little bit. I liked the energy that he brings.
-Brandon Knight. I like his game also. He can get to the basket and is very athletic. If he can improve his jumper he looks like he could be a nice player. He finished with 10 points 9 rebounds and 4 assists.
-Greg Monroe. He looks like he has the most upside out of all the players the Pistons have. He has good hands for a big man and passes the ball well like Hawes does. He has a lot of tools. He could be the guy that the Pistons can build around. He finished with 21 points 7 rebounds and 3 assists.
The Sixers showed there strength tonight. Depth. Every night so far this season there is a different guy stepping up. One night it is Holiday and Turner. Then it is Lou or Iggy. Tonight it was Meeks and Spencer. Everyone knows that they do not have a "prime time' scorer but they have someone new stepping up every night. That is tough to matchup against. I had some fun watching this game. Here is the box score and recap.