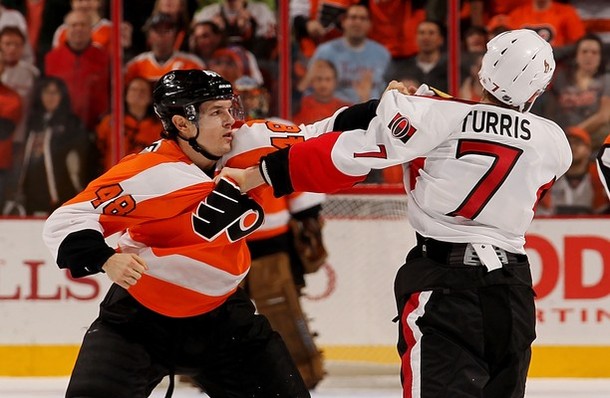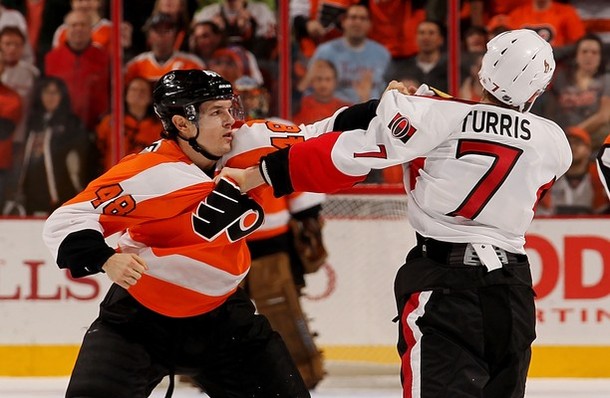 Saturday afternoon hockey games always carry with them the danger that the team may not have its legs ready for a full sixty minutes. Carrying the Flyers at both ends of the ice, Danny Briere and Ilya Bryzgalov were able to compensate by elevating their respective games and shutting down the Ottawa Senators with a thrilling 3-2 overtime victory.
Briere entered the game with just ten goals to his name, having not developed much genuine chemistry with the new blood on the roster. Now nearly halfway through the season, one linemate has emerged that will likely see a lot more time with #48 – Jake Voracek. The two combined for the go-ahead goal in the first period as well as the game winner in overtime with less than six seconds on the clock.
Between both of those goals and a redirection goal off of a shot by Kimmo Timonen in the second period, Briere picked up his fifth career hat trick.
As if that wasn't enough, Briere also fought with Kyle Turris, the #3 overall draft pick in 2007 (behind James van Riemsdyk) after the two got tangled up in the second period. Briere and Turris were sent to the sin bin after Briere hooked him in the mid-section and Turris shoved his face to the ice.
Twenty seconds after they got out of the box, they found each other again and squared off. "It was a spur of the moment, obviously," said Briere. "I felt I was in a bad position and he took advantage."
"Danny can be a feisty guy when he gets ticked off, so it didn't surprise me all that much," added Braydon Coburn.
At the other end of the ice, Bryzgalov stole the game from the Senators with 35 saves, many of the herculean variety. It was the type of game Flyers fans were hoping from him at the beginning of the season, and enough to question whether he should start tomorrow in Ottawa or if Sergei Bobrovsky should give him the night off.
"It's because of him why we got our two points," said Voracek.
While the effort was there this afternoon, the Flyers as a whole were poor at executing basic passes.  There was an unacceptable amount of turnovers at the blue line and blind passes to nobody.  I don't know if it was a miscommunication issue or laziness, but many players just didn't seem to be on the same page when it came to directing the puck.
On the flip side, their composure was excellent against a Senators club that likes to get under their opponents' skin.  I was particularly impressed when Sergei Gonchar grabbed Zac Rinaldo's head with both hands, and Rinaldo just laughed it off.  He has been with the club long enough to not be worried he has to do something drastic in order to stay in the line-up.
Timonen, who was a game-time decision after leaving Thursday night's game against the Chicago Blackhawks with a sore wrist, led the team with 25:45 of ice time. Timonen remarked after the game, "I've seen better days."
"I didn't really know what was going on with Kimmo, but the thing is we've got a lot of depth on defense and I'm sure if he wasn't going to be able to go, I'm sure Walks was ready," said Coburn. While he may have confidence that Matt Walker can fill Timonen's shoes, I don't.  It's great that the team still has him available for the short term, but adding another defenseman capable of eating twenty minutes of ice time a night should be a priority at this point so that Timonen can gain some rest between now and April.
The Flyers finish their home-and-home with Ottawa tomorrow night at 5 PM.  They remain on the road all next week, visiting the Carolina Hurricanes, New York Islanders and Nashville Predators.
For the latest Flyers news and updates, you can follow me on twitter (@JoshJanet).