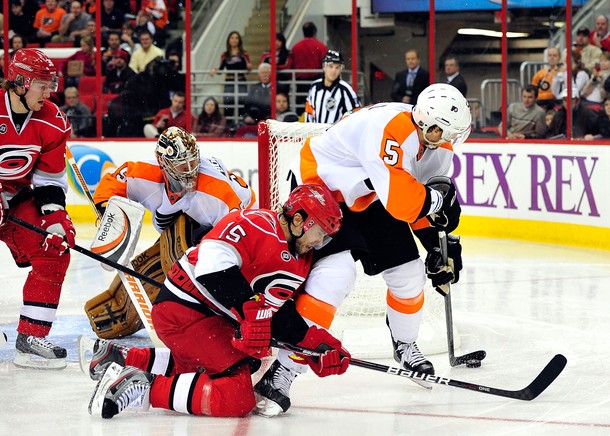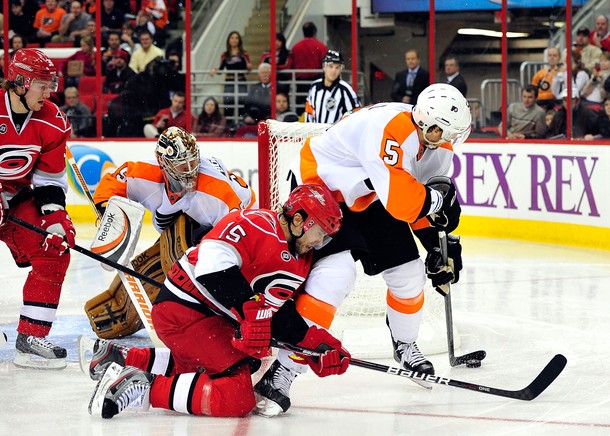 I hate, hate, hate the expression "goalie controversy," and yet here we are.
Peter Laviolette opted to start Ilya Brygalov in net on Sunday night after a strong performance the day before. Six goals and a "loss" later, and the team turned to Sergei Bobrovsky once again to right the ship. In a game in which the Flyers played not to lose, Bobrovsky was the key element to their 2-1 win against the Carolina Hurricanes.
Ignore the hyperbole that "the team played more confidently" in front of Bob.  If anything, the Flyers continued to exert great energy and effort, but at the expense of sloppy play and inopportune turnovers. Bobrovsky matched Cam Ward with 35 saves, but timely goals from rookies Brayden Schenn and Sean Couturier secured the lead over the Hurricanes to further distance them from playoff contention.
The lone goal from Hurricanes rookie Jerome Samson (which also happened to be his first NHL goal) was at no fault to Bob. Kimmo Timonen was in the box for an interference penalty and the Flyers completely forgot how to play defense on the ensuing powerplay.  They all skated towards the puck eight seconds in when Justin Faulk passed it to a wide open Samson.
Schenn played on a third line with James van Riemsdyk and Wayne Simmonds that appears to be playing well. It may make sense for JVR to switch with Max Talbot on Danny Briere's line, but there is promise there. Both Schenn and Couturier finished third and second, respectively, in ice time.
It's also worth noting that Jaromir Jagr has played very conservatively over the last two games.  Sam Carchidi of the Philadelphia Inquirer reported Jagr said he was "scared to test his groin Sunday in Ottawa" but felt "much better" today. He may need more rest than he and the team have let on.
The Flyers have another opportunity on Thursday to grab what should be, in theory, an easy two points from the New York Islanders. Bobrovsky played well enough to earn the start, but Laviolette may look at the competition as an opportunity to get Bryzgalov's game going again.
For the latest Flyers news and updates, you can follow me on twitter (@JoshJanet).