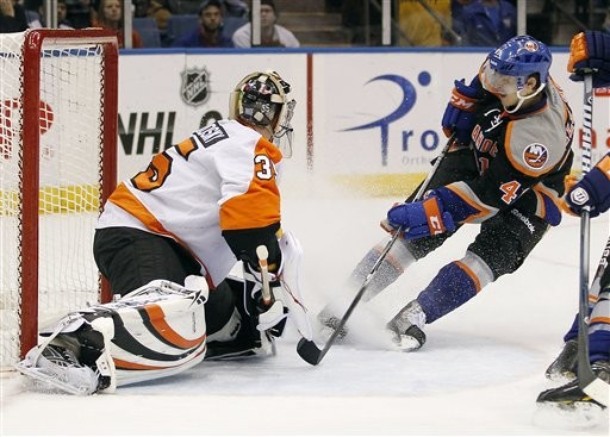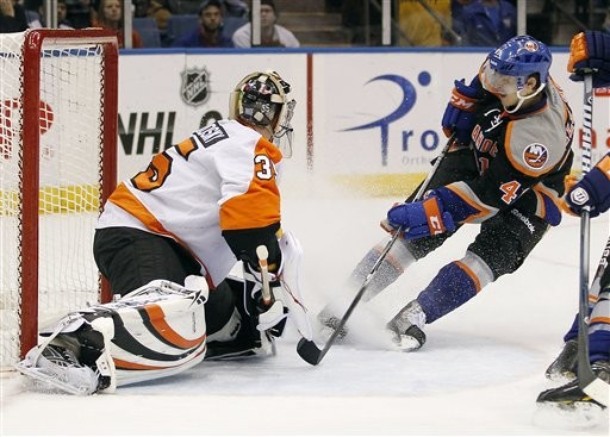 The New York Islanders have been the Flyers' whipping boy for years, but earning that win has rarely been easy. Dating back to last season, 5 of the last 7 games played between the two Atlantic Division rivals have been won by just one goal.  Tonight was no different, as the Flyers collected another two points in spite of inconsistent play between the defense and the forwards.
Sergei Bobrovsky was, much like in Carolina, the deciding factor. On CSNPhilly after the game, Andrej Meszaros stated Bobrovsky was "unbelievable," and that's about as apt a word as one could find to describe his game.
Unbelievable.
Making 33 saves on 35 shots, including a penalty shot attempt from Michael Grabner, Bob kept the Flyers in the game. He is now ranked 20th in the NHL in goals-against-average for goalies who have played in 10 games or more as well as 25th in goals-allowed-per-60-minutes. Ilya Bryzgalov is 45th and 49th in both categories, respectively.
Many suspect Bobrovsky will start in Saturday's game against the Nashville Predators. Why wouldn't you?
Among the forwards, Scott Hartnell, Wayne Simmonds and Sean Couturier scored for the orange and black. Simmonds' goal was a bit of a fluke, as he banked the puck off the back of the Islanders goaltender Evgeni Nabokov's leg from behind the net, but it just goes to show how important it is to keep firing the puck at all times. Fluky goals are part of the game.
Couturier closed the door on an Islanders comeback with 1:30 remaining in the game, going top shelf on Nabokov. Peter Laviolette should consider moving him to the top line in place of Jaromir Jagr, whose age has appeared to be catching up with him lately.  It's not that Jags doesn't have the vision or skill to still compete- I think he has been a great signing this season- but 42 games into the season, he appears to be more than a step slower than he was in September. The on-and-off groin injuries certainly haven't helped.
The Flyers are now within just two points of the New York Rangers, thanks to Jason Spezza and Milan Michalek of the Ottawa Senators dominating the Blueshirts tonight.  Hopefully the fans who complained about the ballot-stuffing that allowed for Spezza and Michalek to make the 2012 NHL All-Star Game over guys like Hartnell will forgive them.
For the latest Flyers news and updates, you can follow me on twitter (@JoshJanet).