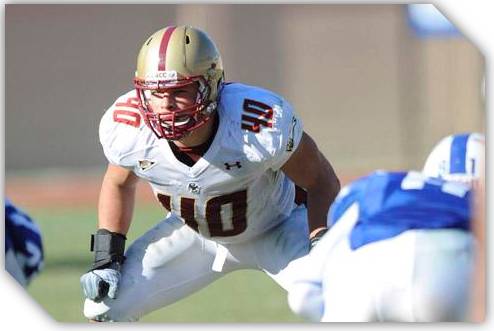 One of the main areas of scrutiny on the Eagles defense was the linebackers. Undersized, lack of technique, and youth were all words used to describe Brian Rolle, Casey Matthews, and the other players that made up the ever-changing Eagles linebacking corps.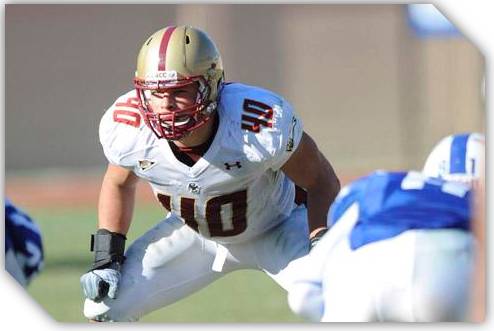 Jamar Chaney was the one consistency in the Eagles defense. Whether he was moved to outside linebacker or solidifying the middle, Chaney was a sure defender when it came to rushing the quarterback, making a tackle, or dropping into pass defense. With 92 tackles, the Mississippi State linebacker led all other linebackers by at least 38 tackles. He was also the only one of the six splitting time to start all 16 games.
Another linebacker that caught attention was the 5'10" Ohio State rookie, Brian Rolle. Before the season, Rolle described himself as a "hard-nosed, scrappy player" that would bring "toughness and grit" to the team. He showed just that during his playing time, making 54 tackles and having a sack, forced fumble, and four pass breakups on his rookie season stat line. Listed as 5'10" in the roster, playing at about 5'8", Rolle showed that you don't have to be 6'3" and weigh 260 pounds to make an impact at the linebacker position (although it does help).
With Rolle and Chaney starting 13 games and 16 games, respectively, the remainder of the time was split between players that, at one point or another, made their living on the special teams. Akeem Jordan, Moise Fokou, Keenan Clayton, and Casey Matthews, who started the season as the starting middle linebacker, all came on at the end of the season when Castillo implemented his changing defensive personnel and defensive schemes. Of those four players, Casey Matthews was the only one to record a sack.
Since about week five or six, analysts and fans have looked at the linebackers coming out of the draft to see who could possibly turn the weakness of the Eagles defense into it's strength. The specific need for the Eagles defense is at middle linebacker, a leader that can call the plays and run a defense.
One of the early candidates was Arizona State linebacker Vontaze Burfict. Other names being thrown around are Alabama linebackers Don't'a Hightower and Courtney Upshaw, UNC outside linebacker Zach Brown, and my personal favorite, Luke Kuechly.
Vontaze Burfict was expected to be a top ten draft pick entering this season but he disappointed by only recording 69 tackles. With five sacks, Burfict is more of a pass-rushing linebacker. The Eagles defense, with Jason Babin, Trent Cole, and Cullen Jenkins, already has enough pass rushers. In the heart of the defense, the Eagles need an all-round athlete who can stuff the run, drop back in pass coverage, or just hunt down the ball-carrier sideline to sideline.
Alabama linebackers Dont'a Hightower and Courtney Upshaw impressed many all season long by making up one of the best linebacking corps in the country. At 6'4" and 260 pounds, Hightower is your prototype middle linebacker. However, Hightower was another linebacker that spent a lot of time rushing the quarterback, and he tallied four sacks while only recording 42 solo tackles. His teammate Courtney Upshaw, whose draft stock for the Eagles has dropped because he is an outside linebacker, is another pass-rusher. He sacked opposing quarterbacks 9.5 times and only recorded 52 total tackles. He will likely fit a defense like the Cowboys or the Steelers who implement a 3-4 defense.
That brings us to Zach Brown. At UNC, Brown had a nose for the ball as an outside linebacker. He recorded 105 total tackles with 5.5 sacks, two forced fumbles, and three interceptions. If Brown can transition into a middle linebacker, he will be a good option for the Eagles if Kuechly is not on the board at number 15. Standing 6'2" and weighing in at 230 pounds, Brown would be the biggest linebacker on the Eagles defense. Brown is a great defender against the pass, having had seven interceptions in the last three seasons. Zach Brown is potentially the Eagles best option if Kuechly is unavailable.
Luke Kuechly, the top linebacker in this year's draft, and possibly of the next five years, is number eight on WalterFootball.com's big board. Understandably so, the junior recorded 191 tackles along with three interceptions, one returned for a touchdown. Kuechly fits the Eagles defensive needs the most.
As I wrote earlier, the Eagles are in no need of a pass rusher with the defensive line stacked with speedy edge rushers. The Boston College product is the type of defender that will not allow a ball carrier past him. His worst season with Boston College, his freshman year, ended with 142 tackles. That's 90 more than Courtney Upshaw, 73 more than Vontaze Burfict, 59 more than Dont'a Hightower and 37 more than Zach Brown – all during their 2011 seasons.
During his collegiate career, Kuechly only had five games where he had fewer than 10 tackles. Three of those came in his first four games of his freshman season. Four times in his three year career, he recorded more than 20 tackles in a game, with a career high of 23 coming in the third game of 2011 against the Duke Blue Devils.
Kuechly is the best option for the Eagles to draft. But will he last until almost halfway through the first round? Many say that he is not a top 5 talent, so he'll make it that far. Sitting at numbers 6-10, teams have money invested in their middle linebackers. Sitting at number 11 or 12 (depending on a coin flip) could be the Eagles biggest threat to drafting the three-time All-American. The Seattle Seahawks, while optimistic about David Hawthorne, are not very deep at linebacker. With a deep WR draft, the Seahawks would be in the market for a receiver as well, and if no better options present themselves, Kuechly may be their pick and the Eagles will have to go to plan B.
Of course, this all depends on who the Eagles decide to go into 2012 with as the head honcho of the defense. And, if Andy Reid will change his philosophy on drafting linebackers. He has never drafted a linebacker in the first round and only Derrick Burgess, who he drafted in 2001's third round, has ever made a Pro Bowl and he made two. Neither of those came while he was a member of the Eagles.
So let's change up the draft philosophy and give the Boston College Eagle a chance to continue being an Eagle and draft him at number 15.