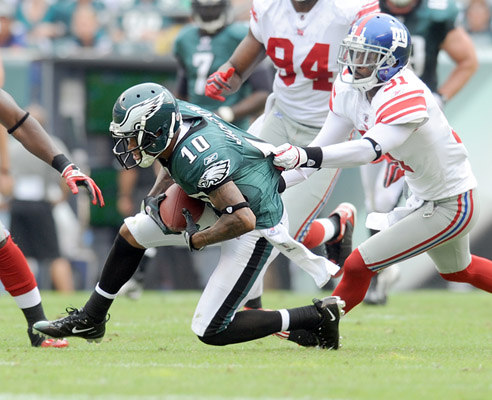 The Eagles will face a series of decisions as soon as head coach Andy Reid returns from his vacation. One of the first orders of business will be the contract situation involving wide receiver DeSean Jackson. If they decide to let him test the free agent waters, where he will surely get a lot of interest, his void will need to be filled. If he is resigned, there is still some areas of concern in the Eagles receiving corps.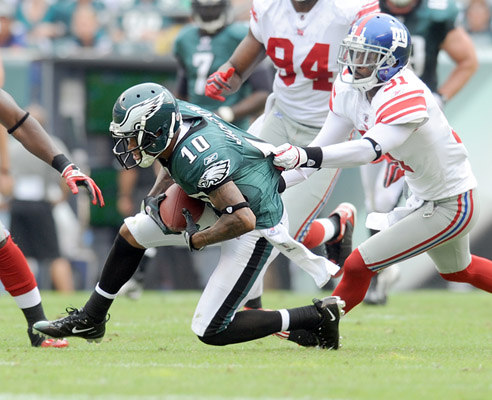 Jackson's status with the Philadelphia Eagles is unknown. So, as fans, the Eagles faithful must start to look at a life without him. Luckily, this is a good season to fill a void at wide receiver in free agency. Three big-bodied receivers will hit the market, all of which could potentially fit the Eagles offense.
Vincent Jackson will become an unrestricted free agent on March 13th at 4:00 PM. He will certainly generate a lot of interest and his phone will be ringing off the hook on that Tuesday afternoon. After receiving the franchise tag from the San Diego Chargers for the 2011 season, Jackson produced over 1,000 yards for the third time in his career and caught nine touchdown passes.
Vincent stands 6'5" tall and weighs in at a strong 230 pounds, which will make him the tallest receiver on the team, an inch taller than Brent Celek. With the size that Jackson possesses, he is a aserious red zone threat. Four of his nine touchdowns of the season came in the redzone, three of them being five yards or less. LeSean McCoy became the Eagles go-to guy in short yardage, goal line situations but having a receiver to throw it to would be a good addition to the playbook.
Marques Colston of the New Orleans Saints is another option the Eagles could pursue. One of Drew Brees' favorite targets, Colston caught 80 balls this season for more than 1,100 yards and eight touchdowns. The 6'4" Harrisburg native also caught four redzone touchdowns from Drew Brees. With Jimmy Graham having his breakout season, the Saints may look to keep him as the focal point of their offense and move on without giving Colston the hefty contract he so deserves.
Reggie Wayne is entering his 12th NFL season and has only played for the Indianapolis Colts for his first 11 seasons. After seven consecutive 1,000 yard receiving seasons, without Peyton Manning, Wayne fell 40 yards short of his eighth straight 1,000 yard season. Wayne has the exact frame as Jeremy Maclin but plays like a 6'5" receiver in a 6'0" body. The former Miami Hurricane can fight for any ball that is put in his general vicinity, a feat that was rare in a season that had Kerry Collins, Dan Orlovsky, and Curtis Painter as his starting quarterbacks.
Clearly, all of these receivers will be looking for big contracts. Other big receivers that are set to hit the market like Braylon Edwards, Plaxico Burress, and Maurice Stovall will provide size for a much smaller price. With a smaller price, though, comes less production.
If the Eagles do decide to let DeSean walk, Alabama receiver Marquis Maze could be available in the later rounds of the draft to keep a speedy receiver on the field. Maze, who injured his hamstring in the BCS Championship Game, is 5'10" 182 pounds. He returns punts and kicks and has a 4.42 40-yard dash speed. While DeSean ran a 4.35 officially at the NFL Combine, Maze is one of the fastest receivers to be entering the draft this year.
On January 5th, the Eagles signed receiver Mardy Gilyard, who was drafted in 2010 by the St. Louis Rams. Gilyard was a 2009 All-American after having almost 1,200 yards and 11 touchdowns with the Cincinnati Bearcats. Gilyard, who was a two-time All-American at kick returner, will be a name to watch when training camp comes around. Maybe the Birds have already found their answer at kick returner for next season.
What may seem too good to be true, the possibility of keeping Jackson and getting a big redzone threat, is entirely possible, and for a cheap price. Assuming that the Eagles fill needs at safety and linebacker in the early rounds, there are some options to draft a big receiver in the middle rounds of April's draft.
At 6'3", Wisconsin receiver Nick Toon could be had in the third round. Toon caught nine touchdowns in an offense that relies heavily on the run. On many occasions, Toon was relied on to block for the running back and he did so very well.
Standing one inch taller than Toon is LSU receiver Rueben Randle. Randle is a big redzone threat and is projected to be drafted in the late second or early third round of the draft. With two picks in the second round and a pick in the third, the Eagles have the chance to fill that void halfway through the draft.
Tommy Streeter, Miami's number one receiver of 2011 stands 6'5". Streeter is a big play threat and can catch the 50-yard bomb or the 5-yard fade. One negative on Streeter is that he could possibly be a one year wonder. As a freshman, Streeter only caught four passes and in 2010 as a sophomore he only caught one pass for a touchdown. Breaking out in his junior season of 2011, Streeter had 46 catches for 811 yards, but played consistently well.
All three of these receivers, expected to be available in the middle rounds of the draft, are eligible for another season of football at their respective schools. If all three choose to enter the draft, the Eagles will be in a gold mine of potential draft picks. If all three choose to return to school, the Eagles may have to look towards free agency to get their need of a big receiver.
What the Eagles receiving corps looks like next year will rely heavily on what DeSean Jackson's future status with the team will be. That being said, expect Jackson's new contract situation to be figured out early in the offseason, if there is a new contract situation, that is.