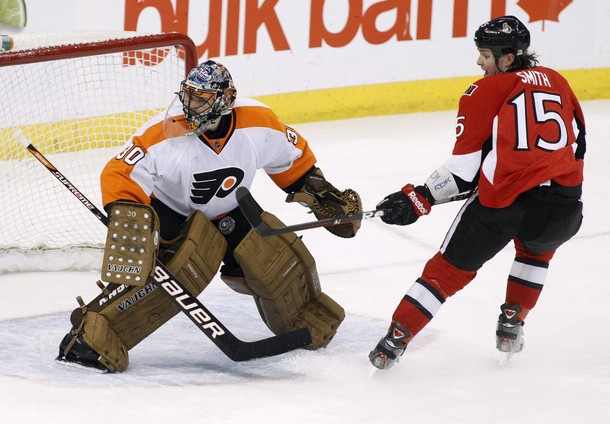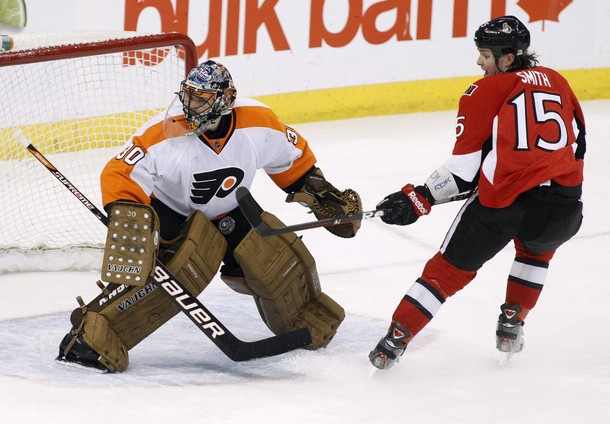 The Flyers finally return home this week following a road trip that saw them earn four of a possible eight points. The second loss occurred last night as Peter Laviolette went back to Ilya Bryzgalov against the Nashville Predators. I didn't have a chance to watch the game, but Bryzgalov made 21 saves on 24 shots while Predators goaltender Pekka Rinne stopped 36 of 38 shots in the 4-2 loss.
With the 2011-12 NHL season past the halfway mark, Laviolette now has to make an important decision- does he return to back-up Sergei Bobrovsky, who has performed well this season, or does he run with Bryzgalov in hopes of jump-starting his career in Philadelphia?
Either decision comes with its own risks. Bobrovsky may work well in earning points in the short-term, but there are still questions of whether he is the answer against Eastern Conference heavyweights like the Boston Bruins or New York Rangers.
With Bryzgalov, how long do you wait before he gets "hot"? Do you extend him three games? Six games? What if he continues to under-perform?
Randy Miller of the Courier-Post stated yesterday, "Bryz has told me he needs the work. That's what he thinks gets him sharp and keeps him sharp."
This is the week to let him prove it. It's early enough that the team can bounce back if teams like the Ottawa Senators and Pittsburgh Penguins gain points against them.  The schedule also works out conveniently as a benchmark for Bryzgalov.
Tuesday's game at the Wells Fargo Center features the Minnesota Wild. They were leading the Western Conference until their luck ran out and their 29th "best" goals-per-game ranking in the NHL caught up with them.
Thursday's tilt is the third meeting of the season with the New York Islanders, who are currently sitting in 14th place in the Eastern Conference.
Saturday's matinee game is at the Prudential Center in Newark. The New Jersey Devils are a much more formidable team than they were last year, but they're also the only team Bryzgalov has shut out this season.
Finally, the Boston Bruins return to Philadelphia for their third meeting this season on Sunday. The last time they were here, the Flyers were embarrassed to the tune of 6-0. Laviolette told the team to let that loss "burn," and it's another game that the Flyers should be prepared to battle through. It's also a game that Laviolette has to start Bryzgalov if there's any chance of him preparing for the playoffs.
I'm a huge supporter of Bobrovsky, but this is the week to let Bryzgalov put his $51 million where his mouth is and show he deserves the starts. Let's hope he runs with it.
For the latest Flyers news and updates, you can follow me on twitter (@JoshJanet).