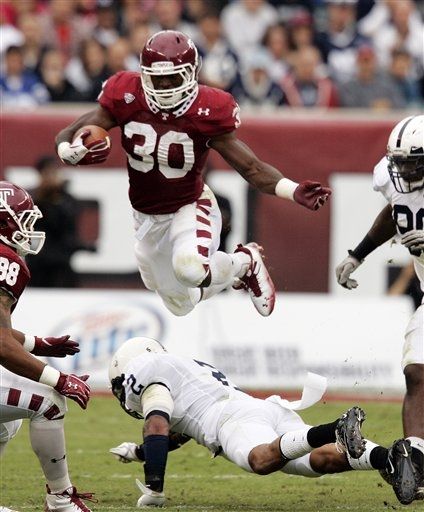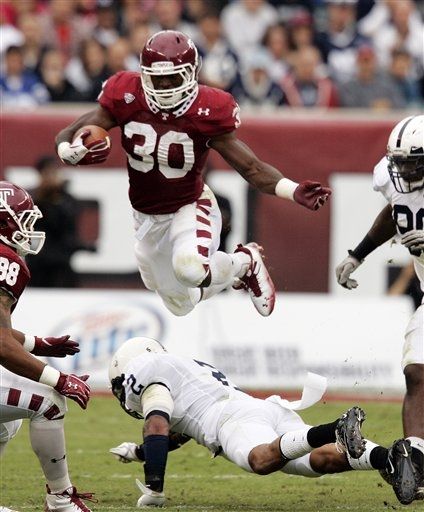 On January 6th, Temple Owls junior running back Bernard Pierce declared for the NFL draft.  This past season Pierce became Temple's all-time leader in total touchdowns (54), rushing touchdowns (53), and total points scored (324).  He also ranks second on Temple's all-time rushing list.
Much of the Owl's recent success can be credited to Pierce.  Temple had won just 10 games in the three years before Pierce arrived to the Owls in 2009.  Since then, Temple has found a winning foundation with a 26-12 record and two bowl appearances.
As a result of his success at Temple the NFL Draft Advisory Board has given Pierce a 3rd round grade, something the three time ALL MAC honoree dreamed of but didn't necessarily envision when he chose Temple.
"Honestly, when choosing Temple, it was not with visions of playing in the NFL," said Pierce.  "I've always dreamed of playing in the NFL, of course, since I was a little kid but at the time it was just to get a great education and play collegiate football to the best of my ability, while staying local to my family."
The Ardmore, PA native believes his decision to come out as a junior was a tough choice, but the right one for him and his family.
"My mom and I sat down and did a lot of soul-searching after the bowl game against Wyoming, and based on the grade I received back from the NFL Advisory Board, we felt that it was the right decision to make," Pierce said. "I feel that I've accomplished a lot of what I came to Temple to do in terms of football, and I'm eager to see what the future holds for me in the NFL."
When talented juniors declare for the NFL draft it is often speculated whether or not the fear of an injury to that player during his senior year played a factor in the decision.
"Injury was never a factor in my decision," Pierce said.  "Confident football players don't think about injury, there is always a chance that you could be hurt out on the field, but you go out and give your all no matter what."
The first step for Pierce after declaring for the NFL draft was selecting an agent. Pierce went in the direction for someone who would get to know him and keep his best interest in mind.  Pierce was looking for an agent he felt comfortable around, which is why he selected Marty Magid of MRM Sports.
"We are excited about Bernard because we feel what makes him special is he can be a featured back, he can do it all, he doesn't need to come out of the game," Magid said when describing Pierce.
Magid is based out of Conshohocken, PA and represents over 20 NFL players including Denver Broncos pro bowl defensive end, Elvis Dumervil.  Many NFL draft experts share Magid's enthusiasm toward Bernard Pierce. Pierce is considered one of the most underrated prospects in the 2012 draft class. He admits he isn't too concerned with what the analyst are saying about him.
"I don't really pay much attention to what the media or experts write about me," Pierce said.  "I try to focus on improving my game, my explosiveness, and my speed.  Hopefully, when they see me at the Combine and Pro Day, GM's and scouts will see that. My game film, of course, speaks for itself."
Pierce is currently working on improving his explosiveness and speed in Atlanta with Paul Doyle of Doyle Sports Performance.  Magid considers Doyle to be one of the best trainers in the world.
Pierce is training for the NFL Combine later this winter where he will be competing with players from the larger BCS conferences.
"It is not intimidating at all, football is football, I look forward to competing with great athletes from any conference," Pierce said. "I'm focusing on my training and improving my skills, I'm working hard every day, and staying positive and mentally focused."
The theme coming from Pierce's camp appears to be work hard and stay focused, which is the perfect attitude to have approaching the NFL draft. Pierce is described as a quiet kid with a great work ethic, and based on his answers, he seems to fit the bill.   Questions or comments about the article? Tweet me @JeryBrennan