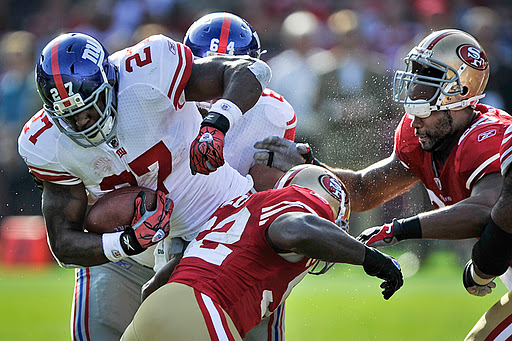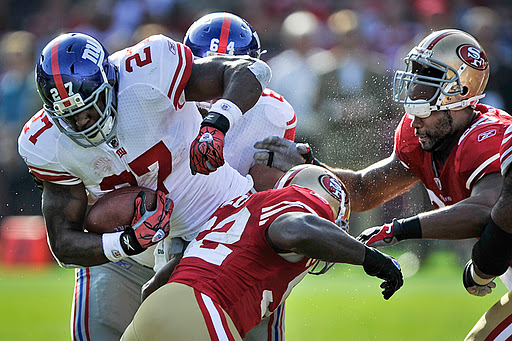 There are two great games this weekend to see which two teams will play in this season's Super Bowl.  We will focus on one game in this article and it will be the Giants vs. the 49ers in San Francisco.  I don't think it would shock anyone if the team that wins this game goes on to win the Super Bowl.
NEW YORK GIANTS at SAN FRANCISCO, THE PLAY, SAN FRANCISCO -1
The Giants and 49ers came up huge last week, both football teams were able to pull off outright victories as underdogs. The Giants went into Lambeau Field and beat up on the defending champion Green Bay Packers, who just didn't seem to be ready to play.  The 49ers took care of their end of the bargain by beating the Saints 36-32 in a classic playoff thriller. So when the Giants travel to San Francisco for the conference Championship game, who will have the edge?
The Giants played the 49ers very tough in San Francisco in week ten of the regular season. New York fell 27-20 in that contest when the San Francisco defense was able to make a clutch stop late in the fourth quarter, on fourth down, deep in their own territory.
However I'm not sure how much we should really take away from that game. Ahmad Bradshaw was out, and Frank Gore was limited to just six carries, as he battled a number of different injuries and was forced to sit out the majority of the second half. Gore will undoubtedly play a much bigger role in this game, and I believe Bradshaw will be a key cog in the Giants game plan as well. Bradshaw has yet to practice this week but it looks like it's just a precautionary measure to give his injured foot some rest.
The running game will be very critical for both teams in this football game. One thing that can't be overlooked is the fact that the Giants defense has given up over 100 yards rushing in seven of nine road games this year. However the 49ers were one of the home teams that failed to gash the New York defense on the ground, as they only rushed for 77 yards against them in the first meeting.
I have to believe it will be a little bit different this time around as Frank Gore is much healthier now than he was during the first meeting. Gore should be able to have success against Giants front four that is a little bit undersized. I definitely see Gore playing a much bigger role this time around, and look for Kendall Hunter to have a nice day also. Hunter gained 40 yards on just six carries in their first meeting against the Giants, and was able to get in the End zone as well.
The Giants running game has been spotty at best this year. They rushed for less than 100 yards on twenty seven carries last week, and the Green Bay run defense has been very suspect this year, unlike the 49ers who have been rock solid. San Francisco's run defense has been phenomenal all year and I don't see the Giants being able to run the football in this one. Eli Manning has played very well this year, but going on the road against a defense like the one the 49ers have, with a very spotty running game will be a tough task.
The San Francisco home record can't be ignored either. They come into this one with an impressive 8-1 record straight up, and 8-0-1 to the spread at home this year. The 49ers have been a great play at home and they are the smart play this week. They play the perfect type of football for this time of year, and their defense is nothing short of dominant. Coughlin and the Giants have had a ton of road success in the Playoffs, but I really don't see it continuing against this 49ers squad. Take San Francisco as a slight favorite to advance to the Super Bowl.