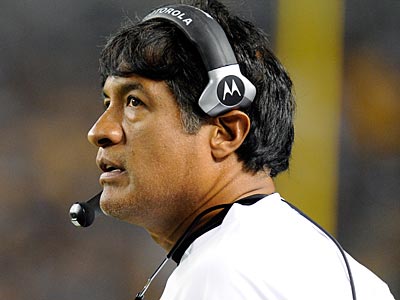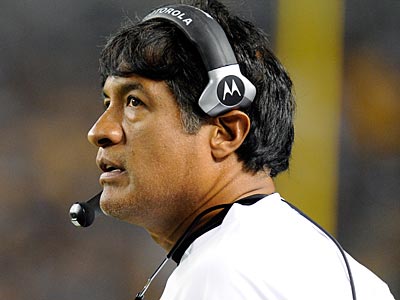 I'm with you. Well, most of you. I was licking my chops with the thought that Steve Spanguolo was almost a lock to come back to the Eagles as their new defensive coordinator. The stars were seemingly aligned. Spags was fired as head coach of the St. Louis Rams and days later Jason La Canfora of the NFL Network reported that Spagnuolo was going to be in Philly by the end of that week.
Les Bowen of the Philadelphia Daily News promptly explained that Spags was probably just coming for an interview, as Andy Reid was away for the week on vacation. Off the record, Andy Reid still hasn't had a season-end press conference like he normally does after each season by this time. That left many to wonder that Reid was making calls around the league and that Juan Castillo most likely would not be back next season at the team's defensive coordinator.
And then Steve Spanguolo agreed to become the new defensive coordinator of the Saints late Thursday. Anthony Gargano of SportsRadio 94WIP read a text message from Steve Spanguolo on the air that said "Ant, I'm taking the Saints' job." That left many Eagles fans displeased, not just because we wanted Spags to be reunited with Andy Reid and head the defense, but because we were relegated to believe that Juan Castillo was going to return to the Eagles and stay the defensive coordinator, figuratively ending the 2012 Eagles season before it even began.
But I have a friend who's got a different take. His take is mostly on par with the same people who would like to see Juan back. The Eagles defense played really well the last four games of the season after they were thrashed by Tom Brady and the New England Patriots. They learned how to use Nnamdi Asomugha, which is an excuse that I find undesirable. Nnamdi was supposed to be a world class football player, he was paid like a world class football player, and he needs to be put in a good position by his coaches to succeed here?
I've heard that if someone is a great player on a bad football team, and come to a good football team and plays poorly, then they're overrated. Yes, Nnamdi was overrated most of the year but became a shutdown corner towards the end. We're likely to see Asante Samuel go, and have DRC take over the reigns on the other side of the field across Nnamdi.  The defensive line was pretty good the entire year, but Jim Washburn and Castillo clearly were not on the same page for most of the season.
The "Wide-Nine" alignment for Jim Washburn's defensive line left many gaps in which good linebackers and good safeties would need to stop. They didn't. The Eagles linebackers and safeties were terrible all year, and when Nate Allen returned 100% from his knee injury from the prior season, he played pretty well.
Then we have the lockout excuse. This offseason gives Juan a clean slate to go over the defense, and help develop his scheme for eight long months. He will have eight months to contact his players, instead of just eight days. This makes sense to me, but in the National Football League, there's your new 49ers coach Jim Harbaugh taking his team to at least the NFC Championship game. It's hard to feel bad for Castillo when we are constantly told about how loyal he is and how loyal Reid is. I understand that loyalty issue, but shouldn't their loyalty be for the Eagles fans instead of theirselves? That's the reason many fans soured on this team.
Andy's cockiness, Juan's knack for saying "they work hard," and Jeff Lurie unable to witness how poorly his front office has managed this team the last few years. Honestly, this team has been a lot worse since Andy Reid has lost some of his power within the front office. If Reid isn't the only one making football decisions, this team doesn't go far.
So, I ask you, is bringing back Juan for another year the right move? He'll have a full off-season. There were good signs towards the end of the year. They did play the Dolphins, Jets, Cowboys, and Redskins who all were playing for nothing. That's the huge red flag to me. But there is seemingly nobody better out there to bring in, and unless the Eagles bring in a defensive consultant, like they were rumored to this past season during their bye week, I don't think this is a championship-caliber defense with Juan Castillo at the helm.