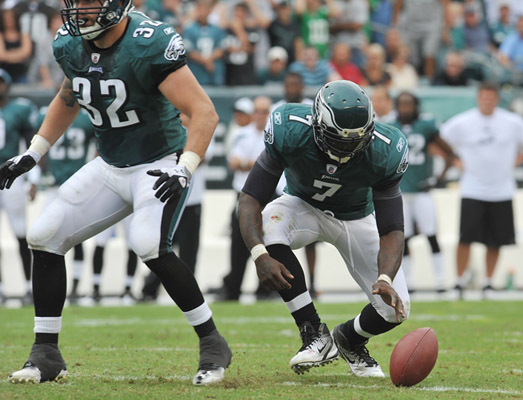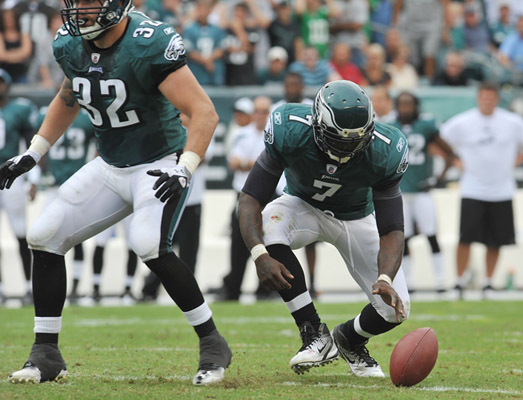 Are you serious? Are you kidding me right now? The New York Giants are back in the Super Bowl?! Do I feel terrible! Yeah, I feel terrible for Kyle Williams who fumbled away the 49er's chance for their first Super Bowl in how many years? But I feel worst for myself and every other die hard Eagles fan who knows it could a', would a', should a', been us if… oh boy, here I go again.
I thought I was done with reliving a horrible Philadelphia Eagles "nightmare" of a season, one that held such high hopes. Thought I was done with wondering what would a' been had an Eagles defense come together in the first half of the season rather than in the waning weeks. I thought I was done wondering how a team that always stayed on the plus side of takeaways and giveaways forgot how to hold on to the football.
When the Eagles 8-8 season was done, I thought I was. Now, for the next two weeks I'm going to be waking up in cold sweats from bad Dream Teams, uh, bad dreams of  teams coming from behind to win games that seemed already in the bag. Until Super Bowl XLVI I'll be crying in my Sweet Tea because it's the Giants on their way to a rematch with the New England Patriots instead of the Eagles. Could a', would a', should a'.
Back in week two we traveled to the ATL against the Falcons in a game I marked on the schedule as a win. A tough game but a win all the same. A game we were leading 31-21 before giving up two 80-yard touchdown drives in the fourth quarter. A game we should a' won. The next week at our house against the Giants, after three quarters the score is 16-14 and then we imploded, again in the fourth. A game we could a' won. And the fourth game the very next week we had a 21 point lead on the 9er's before allowing them to steal a game we would a' won.
We should a' been Eastern Division Champs! We could a' beaten the Packers with our many weapons on offense… right? And we could a' handled the 49er's with the speed of a hard hitting, relentless defensive line that would a' given Alex Smith all kinds of fits. If I could a', should a', would a'.
Are the New York Giants – a team we should a' beaten twice, and the San Francisco 49er's, the team that, without the two turnovers would a' been playing in the Super Bowl – really better than the Eagles? I mean, Alex Smith had a great season comparing 2011 to the other six, but against the Giants he was the 2010 version. And Eli, yeah he's an elite quarterback, yada, yada, yada…the 9er's "D" beat the crap out of him.
Now the Patriots, they're another story all together. They "appear" to be this year's Team of Destiny. I say that not because they got into a groove the way the Giants did the last couple games of the regular season and into the playoffs, but "Lady Luck" – if you believe she exists – stood on the Pat's sideline at the end of the fourth quarter. Did she cast a shadow over the ref's eyes or slip him a dollar to turn a blind one? I thought Baltimore Ravens wide receiver Lee Evans'  "so called" drop in the end zone which would a' resulted in the game winning touchdown, was at least worth a review (looked good to me). And then on their next possession, kicker Billy Cundiff missed a 32 yard field goal that would a' won the game… again. An-n-n-yhoo…
Where do the Birds fit into all this?  Truth is, we're right in there talent wise. Bring in a stud linebacker from the draft? Keep star cornerback Asante Samuel and disgruntled wideout DeSean Jackson? Both would be preferable to keep the talent on a "Super Level". But when is Coach Andy Reid going to finally open his mouth to say something? Anything? He should a' told us something by now. We could a' gotten back "Spagnuolo the Great" (former Eagles Defensive Coordinator Steve Spagnuolo and most recently, Rams head coach). Now he's gone to the New Orleans Saints. Andy Reid is probably somewhere trying to figure out how the Philly Phaithful will react when he announces that he's retaining Defensive Coordinator Juan Castillo.
Might work out, might not but if it doesn't, there will be no 2013 for Big Red… then he'll be singing… "If I just could a', if only I would a', you know, I should a'… Hey Andy, the Dallas Cowboys have "5" Super Bowl wins in eight appearances, the Washington Redskins three out of five and on February 5th, the New York Giants have a chance to extend their Super Bowl record to 4-1. The Philadelphia Eagles? Uh… 0-2! The NFC East team with the least Super Bowl appearances and only team with "0" wins. None! Notta'! Zilch!
Anyone remember singer Lou Rawls? He was one of the leading Soul/R&B balladeers from the mid 60's through the early 80's. He sang hits like "Natural Man", "You'll Never Find" and "I'll See You When I Get There".  Check out the lyrics to this titled song I'm dedicating to you Andy … "If I could a', would a', should a'. That's what folks always say. If I could a', would a', should a', but it's never too late. I'm sayin it now."
Coach, please, do something, say something… Could a', would a', should a'. I'm sayin' it now… make a move!