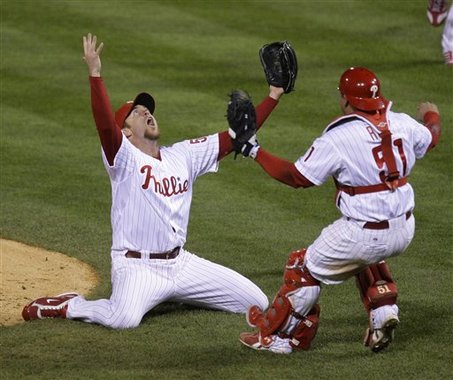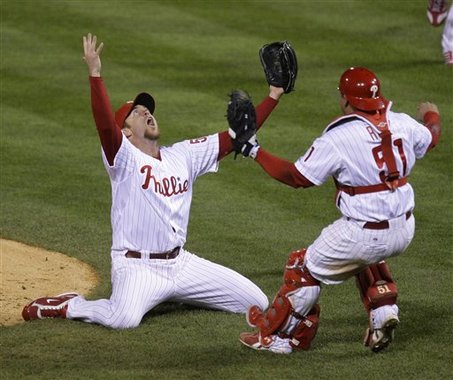 The man who helped bring a World Series championship to Philadelphia in 2008 has moved on to the Washington Nationals signing a 1 year deal. Lidge was informed about 10 days ago that he wouldn't be part of the Phillies plans in 2012. With such a rich market for relievers this off season Lidge was lucky he was even able to land a deal anyplace for 2012.
The departure of Lidge closes a chapter of baseball history for many of us in this town. I'm 28 years old and for most Philadelphia sports fans part of my generation Lidge was much more than just another player in this town. He was on an icon to all of us. Before 2008 we never witnessed a championship in Philadelphia. The way things went in 2011 some of us believe we may not see another one for a long time if at all.
Lidge went 48 for 48 in save opportunities during that magical 2008 season and was a huge part of why we had a parade down Broad Street that October. After the 2008 season though Lidge began to decline. He had an atrocious 2009 season blowing numerous save opportunities and began being plagued with injuries. In 2011 Lidge was limited to just 25 games due to a shoulder injury.
This past season he clearly wasn't the same pitcher he used to be and it became evident the Phillies were going to move on from him or at the minimum bring him back in a different role. The 2011 season saw a resurgence of young arms in the Phillies bullpen with the likes of Michael Stutes and Antonio Bastardo. Now with the signing of Jonathon Papelbon and the apparent comeback of Jose Contreras the Phillies obviously are pretty set in the bullpen leaving Lidge as the odd man out.
Lidge spoke with Phillies GM Ruben Amaro Jr. about the decision to let him go and said the following. "Ruben was honest with me and I appreciate that. I let him know I was disappointed but at the same time I wished him luck. There are no hard feelings. It's part of the business." Lidge will now join former Phillies outfielder Jayson Werth in Washington. He'll bring a veteran presence to the National bullpen. Lidge will be making plenty of returns to Citizens Bank Park next season as a visitor and will surely here cheers whenever he makes his first in game appearance at the Bank.
Lidge believed he would be able to make it back into the Phillies bullpen for 2012 if not as a closer in a different role which he was fine with. He said "Initially I thought I'd be able to come back. They knew I was going to look around and see if there was an opportunity to close. They said the door was open. Unfortunately when I came back the door was closed. It was surprising and disappointing."
Lidge cited injuries and the luxury tax as the most likely reasons as to why the Phillies decided not to bring him back. "Health was a little of it. Actually, I think it was a lot of it. They also felt they were up against the luxury tax and it wasn't worth the risk. That surprised me because earlier in the off-season they told me I was. I understand. People change their mind. They singed some other free agents. Sometimes you have to turn the page."
Lidge will forever be remembered for his game 5 final strike out of Rays Erik Hinske on an 0-2 slider. Lidge immediately dropped to his knees and was mobbed by teammates. When Harry Kalas made that game winning call it was as if a weight was lifted off everyone's shoulders. To this day I still can't believe we actually had the opportunity to witness such an incredible season in this town because many of us in my generation thought the day a Philadelphia team won it all would never come.
The generation before mine had Tug McGraw and not to take anything away from him but he wasn't ours. For those of us in my generation Tug was more of a myth. We've all seen the footage of him making the final out in the1980 World Series and have heard the stories from our elder Phillies fans about him but we never had the chance to see him play. The 1980 World Series Championship belonged to our fathers and grandfathers.
Not until 2008 did we finally have a championship of our own to refer to and that championship had the face of Lidge on the cover of it. For myself and many others the departure of Lidge is a sad day in this town but also an opportunity to turn the page and find the face of that next World Series Championship whenever that may be.
As far as my generation goes Lidge will always hold a special place in all of our hearts because he was part of that first championship that many of us witnessed. On behalf of others part of my generation I'd like to say thank you to Brad Lidge for bringing us a memory in 2008 that will last us a lifetime.