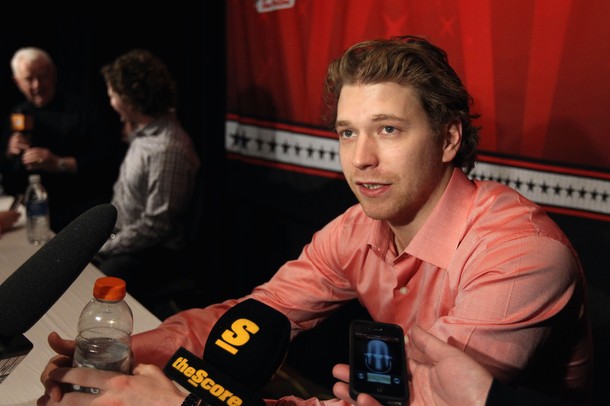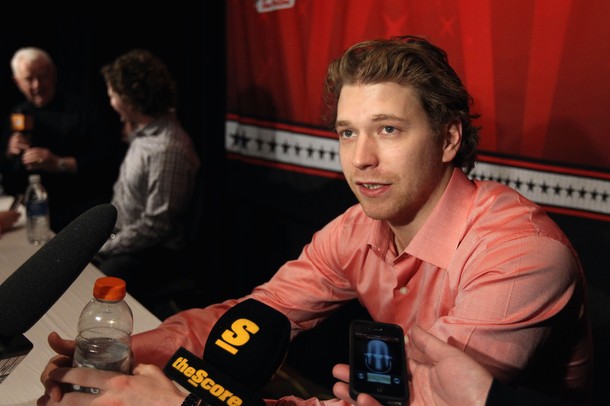 Mike Richards became captain of the Philadelphia Flyers at age 23.
At the time, Richards had finished his third season with the Flyers following an incredible run to the Eastern Conference Finals that saw him net seven goals and fourteen points in seventeen playoff games before falling to the Pittsburgh Penguins.
Prior to that, Richards had been a leader at both the junior level and in the AHL. He won a Memorial Cup with the Kitchener Rangers of the OHL and was the team's captain when he was drafted #24 overall in 2003.  He eventually helped the Philadelphia Phantoms win the Calder Cup in 2005.
While some would argue otherwise, Richards applied his leadership to the Flyers very well in the locker room. The Flyers wouldn't have made it all the way to the Conference Finals in 2008 and the Stanley Cup Finals in 2010 if he couldn't rally his time to victory.
Heck, does anyone remember "the shift"?
What went wrong, however, was that Richards was made captain before he was able to learn how to be the face of a major NHL franchise.
It didn't matter that he was well liked in the locker room and commanded respect from his teammates. From a public perspective, the media (and some of the fans as a conduit for the media) took him to task for his sheepish demeanor and occasionally sarcastic personality in front of the cameras.
It didn't help matters that, as a multi-millionaire in his early 20s, he enjoyed a social life.
A lot of hockey fans I've discussed this topic with tend to believe (and rightfully so) that Richards was awarded the captaincy because of Sidney Crosby. The difference between Mike Richards and a player like Sidney Crosby, though, is that Crosby understood at a young age how to work with the media and his public perception.
Being in Philadelphia could also have something to do with it, as there have been virtually zero reports on Richards being "out of control" since being traded to the Los Angeles Kings. For that matter, neither Scottie Upshall nor Joffrey Lupul have had to put up with any negative press since they were traded out of town.
That said, current superstar Claude Giroux has been quietly gaining steam as a candidate for future captaincy of the Philadelphia Flyers.
He was honored tonight at the Philadelphia Sports Writer's Association's annual dinner as the Oustanding Philadelpia Pro-Athlete of the Year.
According to Sam Carchidi of the Philadelphia Inquirer, Ed Snider had this to say about Giroux: ""I tell everybody that he reminds me of Bobby Clarke at a similar age… He looks like he did, acts like he did, played like he did. It's kind of exciting."
As most Flyers fans know, a comparison to Clarke usually means that the player is being groomed to be captain. Its a comparison we heard for years about Richards.
Chuck Gormley wrote in "Orange, Black and Blue: The Greatest Philadelphia Flyers Stories Never Told" that Richards was reluctant after the 2008 playoffs about taking on the captaincy. "I'm still learning so much from everybody," said Richards. "Gator (Jason Smith) is the best captain. And then there's Hatch and Kimmo and Danny. I don't feel I'm ready right now. I like the position I'm in as a little bit of a leader. But there are so many leaders in the dressing room right now that I don't think it's the right time or that I'm ready."
They made him captain four months later anyway.
Where I'm going with this is that, with Chris Pronger out indefinitely with a severe concussion, there's a possibility that the Flyers could try to give Giroux the captaincy next season.
Giroux is 24 years old and in the middle of the best year of his career. He's shown thus far that he can handle the media when needed and has kept out of the public spotlight (for the most part). While he is certainly a strong candidate to be future captain of the Flyers, the organization can learn a lot from the situation they found themselves in with awarding Richards the honor at too young of an age.
Should Pronger not be able to play next season, I think giving the captaincy to Kimmo Timonen would be most fitting in the final year of his contract. Groom Giroux for captaincy in the 2013-14 season when he's had a few seasons to learn the ropes.
For the latest Flyers news and updates, you can follow me on twitter (@JoshJanet).