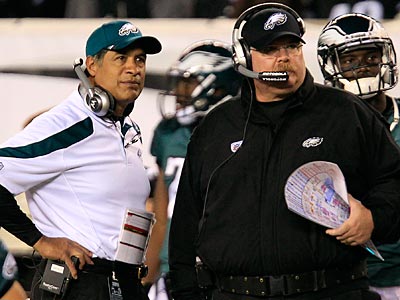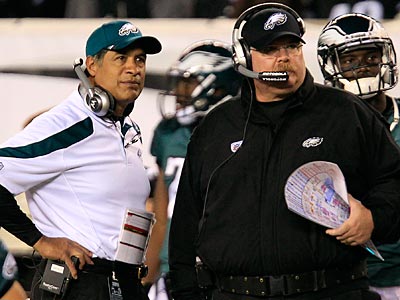 If you mention Andy Reid's name to coaches throughout the NFL, they talk about him like he's a Hall of Fame coach who has won multiple Super Bowls.  They talk about all of his former assistant coaches who have become head coaches and doing well around the league.
Reid is respected for his calm demeanor,  knowledge of the game and his consistency.  The coaches emphasize Reid's willingness to battle for the guys that coach for him.  The fact that he's never won a Super Bowl is brushed off as if it's not a big deal.  As far they are concerned he is the man.
An NFL source told me Reid has been battling for Juan Castillo to get another shot at the defensive coordinator's position since the season ended.  He's been meeting with Eagles owner Jeffrey Lurie and team president Joe Banner to convince them that Castillo can do the job.  So the idea that Reid was truly interested in bringing in Steve Spagnuolo is false.  He might have gone through the motions, but Reid hasn't stop believing that Castillo is the right guy for the job.
I did see Castillo dial up some good blitz ideas in the last four games, by standing up defensive ends Jason Babin and Trent Cole.  He designed some nice stunts which produced sacks for the Birds, but he was doing this against sub-par quarterbacks of non-playoff teams, not Tom Brady and Drew Brees.  Reid has enough confidence in Castillo to tie his future to the success of the defensive coordinator.
I also learned that Todd Bowles paid a visit to the Nova Care Complex last week.  Sources tell me that Bowles sees this job as a possible stepping stone to a chance to become a defensive coordinator and head coach in the future.