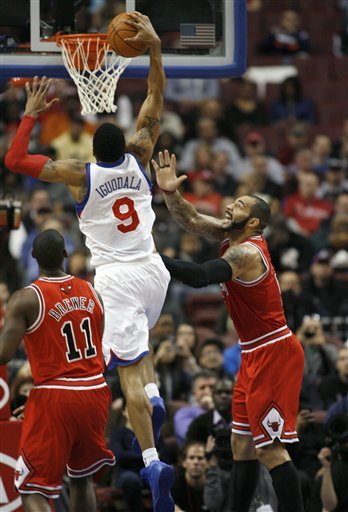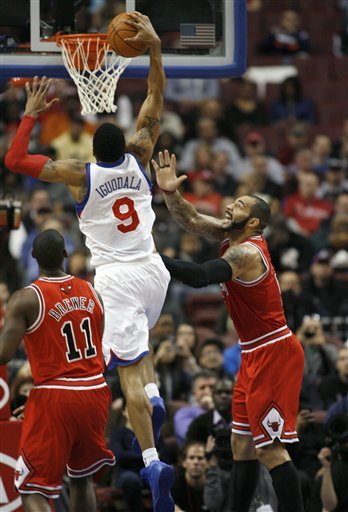 I wasn't going to write about this game. I swear I was not going to do this. Some people really love to tick me off. People love to hate on the Sixers. Okay, before I go on my rant here let me slow down for a second and give you some of my thoughts on the Sixers/Bulls game.
This was easily the best win for the Sixers, a 98-82 over the Bulls. The Bulls started out pretty quick and had a 17-11 lead at one point during the first quarter. Until the Sixers finished with 16 to 4 run to end the first giving them a 27-21 lead after the first. The second quarter was a little back and fourth. The Sixers had a 49-44 lead going into halftime.
Then came the third quarter and that has been the Sixers calling card so far this year coming out of halftime at a high level. They had an 11 to 1 run to blow it open, ending the third quarter with a 20 point lead and never looking back. The Bulls only got as close as 12 points after that in fourth quarter. The best win of the year so far for the Sixers.
The Sixers out rebounded the Bulls 43-37. Going into the game the Bulls were the top rebounding team in the league. I have to say one thing before I go into my rant: Derrick Rose is nasty. The Sixers made him earn everything he got against them to their credit. Derrick might be the best finisher at the basket right now. He just makes tough shot after tough shot. He is Allen Iverson with a better body.
Okay, on to my rant, instead of me enjoying Andre Iguodala's unbelievable night where he decided he was going to make a highlight-reel  film in the third quarter all I heard was that he is still a bum.  I am now starting to get a tad bit mad.
Then I was enjoying watching Lavoy Allen finding on role on this team and showing that he belongs in the league and all I am hearing is that he will never do this again. Okay, now I am ready to start throwing stuff across the room.
The final straw was hearing right as the buzzer sounded to end the game that the Sixers only beat them because Rip Hamilton and Dang were not playing. BOOM, I get it. I understand they did not have a full squad but they still had Derrick Rose, Carlos Boozer and Joakim Noah playing. The Sixers had Hawes out for the ninth straight game so to me at least Rip and Spencer Hawes cancel each other out. The Sixers did what they should do against this Bulls team that was missing two starters,  bury them. Of course that was not enough for the Haters. As I still was getting blasted on Twitter.
Twitter, I really cannot stand you sometimes but I cannot live without you. I am like Boyz II Men; I am down on bended knee for you. Sorry, that was corny as hell. Twitter made me finally give up last night though. I did not want it to ruin my excitement for this team. People are going to hate no matter what the Sixers do it seems. I might sound like a broken recorded here but I just want to kick back and enjoy this ride the Sixers are giving us.
They are young, fun and exciting. I will worry about trading Iggy or amnestying Brand next year. Let this team ride this one out. Unless, Dwight Howard is within reach. Just saying… By the way the Sixers are 2 for 2 in the toughest part of their schedule. On to the Heat, who are easily the best team in the league right now. Sixers are going to need everyone's A game to beat the Heat on Friday night. Remember showyaluv! Here is the box score and recap.