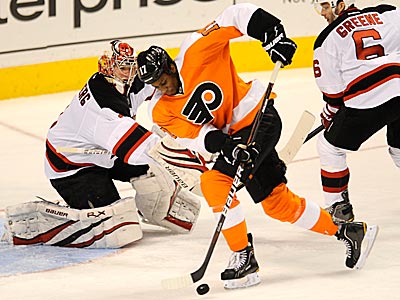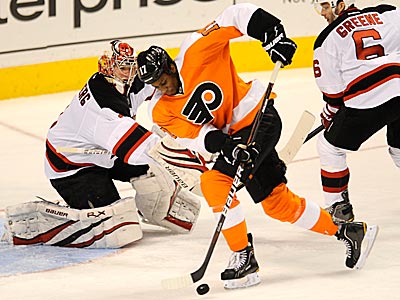 The Philadelphia Flyers made two huge offseason trades that had their fans scratching their heads, but 50 games into the season it looks like General Manager Paul Holmgren knew what he was doing all along.
In the first trade, Jeff Carter was sent to the Columbus Blue Jackets in exchange for forward Jakub Voracek and a first round draft pick in the 2011 draft pick.  The Flyers selected center Sean Couturier with that first round pick.  In another trade, Mike Richards was sent to the Los Angeles Kings in exchange for forward Wayne Simmonds and prospect Brayden Schenn.
Voracek has become an integral part of the Flyers power play and penalty kill. He has eight goals, 20 assists and 28 points in 50 games played.  He is a gritty player who will do the dirty work along the boards to get the puck to an open teammate for the scoring chance.  He plays hard every night even if he's not having a great night on the stat sheet.
Couturier is a big part of the penalty kill unit and his ice time varies depending on how many penalties the Orange and Black take per game. In 46 games played, he has ten goals, nine assists and 19 points including two shorthanded goals.  He is sound defensively and makes good decisions with the puck as told by his giveaways to takeaways this year.  He has only 13 giveaways while taking the puck away from his opponents 24 times this year.
Carter has missed significant time this year due to injuries.  He had a broken foot and a separated shoulder.  Carter has ten goals, seven assists and 17 points including five power play goals.  He only plays at even strength and only the power play.  He doesn't play hard along the boards and takes a swipe at the puck and then just skates away.  There are rumors that the Blue Jackets would be willing to trade Carter if there are any teams willing to take him.
Simmonds is the big body in front of the opposing goaltender providing the screen on the power play.  He has 15 goals, 14 assists and 29 points including six power plays goals and three game-winning goals.  Simmonds is a gritty player who will drop the gloves in a heartbeat to defend a teammate or just to provide an energy boost.  He'll finish his check when he gets the opportunity and will fight for a loose puck whether along the boards or in front of the goalie.
Schenn has also missed significant time due to injuries this season.  He broke his foot blocking a shot and then was out with a concussion.  Schenn has four goals, three assists and seven points in 22 games played but two of his four goals have come on the power play.  He's definitely been playing better in the last couple of weeks and seems to be playing with a physical edge to his game.  He's willing to do the dirty work along the boards.  Schenn is pretty good in face-offs winning about 48 percent of them.
Richards plays all facets of the game for the Kings including power play, penalty kill and even strength.  He has 14 goals, 12 assists and 26 points including two shorthanded goals.  Richards has good anticipation on the penalty kill like he knows what the opposing player is going to do before he does it.  He'll finish his check and will fight if he needs to.
It's only been 50 games but it sure looks like the players the Flyers acquired are outplaying the players that they traded away.  Only time will tell if the Orange and Black made the right decision in trading away Richards and Carter.