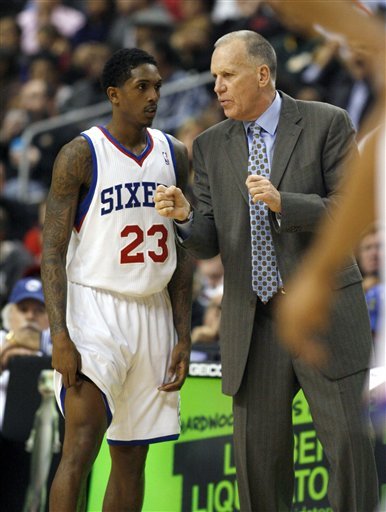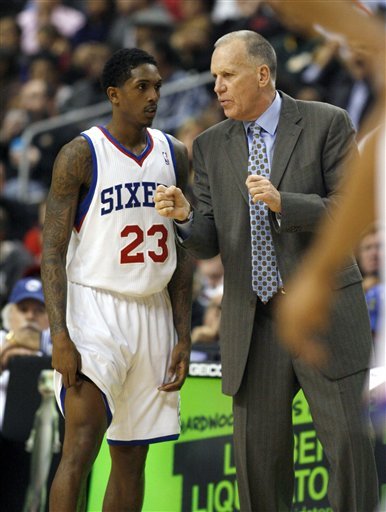 There's a big difference watching this 76ers team as opposed to the one we saw in 2010-11. Last year's squad could not find ways to beat decent teams and would flounder down the stretch with the game on the line. I remember March 9th, in particular, when the Sixers blew a five point last minute lead against Oklahoma City and ended up losing the game in overtime.
The main problem was they didn't know who to give the ball to during crunch time, and they let the other team's star take over. This year, things are different. They are finally figuring out how to win games in the fourth quarter, and last night's 95-90 win over the Lakers was a great example of just how far this team has come. Lou Williams took over the last five minutes, while the much maligned Andre Iguodala shut down Kobe Bryant in the second half. Williams and Iguodala have come such a long way.
Neither one will ever be the superstar that many expected them to be, but both have gone all in on Doug Collins philosophy and it's nice to see them get a chance to finally flourish. As recently as two years ago, these guys were the poster boys for failure during that forgettable 27 win Eddie Jordan debacle. Today they are both legit All-Star candidates and it's a testimony to not only the head coach, but two guys that are doing what needs to be done for the good of the team.
Sixer Tidbits
-This team is really starting to remind me of the 2007 Phillies. That was another team that was young, hungry, and received very little fan support early on. They showed resiliency during the season, and by October had won over the town. These Sixers are very much like that. They especially showed their hunger Saturday night when they went down to Atlanta and beat up a very good Hawks team after a tough loss the night before.
I don't think there's any way this team goes on the road and wins that game last year. But these young guys have a sense of purpose and professionalism that's been missing for a long time. Again, credit Collins and his staff for taking a culture of losing and flipping it around. These guys expect to win and, with the exception of Miami, matchup well with anyone in the East. Maybe they'll get lucky and the Heat will pull a Mets style choke job that enables the Sixers to miss them altogether in the postseason. Stranger things have happened.
-Elton Brand is one of the most professional guys in all of basketball. He's playing for a team whose style of play goes against his strengths, but he continues to go out there and battle every game. With that being said, I think it's a safe bet that we are seeing him in his last year as a 76er. His cap number is too high for next season, and if the Sixers hope to bring in a quality free agent they will have to amnesty him. Meanwhile, the team really hasn't missed a beat as he's sat out the last two games with a hand injury. EB should have a few more decent years in this league, but I'm betting by next year it won't be in Philadelphia.
-Remember a couple weeks ago when many still weren't sold on the Sixers because they only beat subpar teams? Guess we can finally stop that talk. With wins this past week over Orlando, Chicago, Atlanta and LA, the Sixers are finally starting to get the respect they deserve. I guarantee there isn't a coach in the Eastern Conference that wants to play this team in a best of 7 series. They are relentless defensively, and can run with anyone. They are young and hungry and it's nice to see the bandwagon finally filling up. Enjoy the ride, Philadelphia. This team has a chance to be very special.