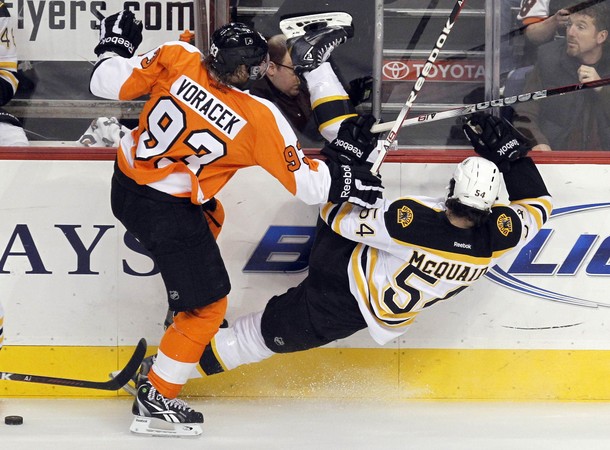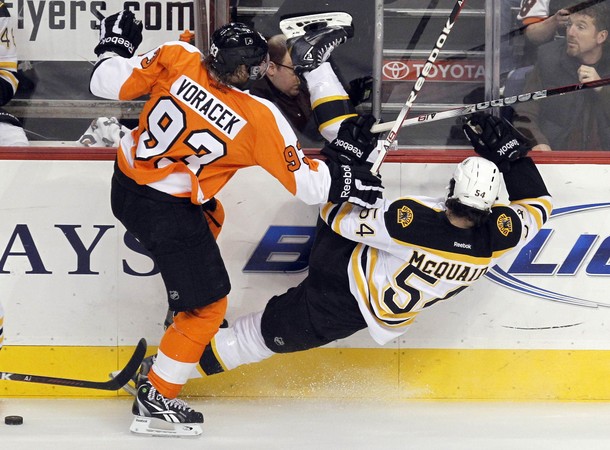 In the ongoing discussion of trade talks, it has been fairly well documented that the Flyers would like to bolster their blue line with another defenseman.
How much offensive depth does the team have to part with in that search, though?
The Flyers rank 2nd in the NHL with 3.31 goals-per-game. In the six games both James Van Riemsdyk and Danny Briere had been out with concussions (Briere returned tonight while JVR is still out indefinitely), the Flyers have potted 17 goals (or 2.83 goals-per-game).
The offensive production has broken down in that stretch as follows:
Four goals: Wayne Simmonds
Three goals: Scott Hartnell, Brayden Schenn
Two goals: Claude Giroux, Max Talbot, Jake Voracek
One goal: Matt Read, Jaromir Jagr
No goals: Sean Couturier, Zac Rinaldo, Tom Sestito, Harry Zolnierczyk, Jody Shelley, Ben Holmstrom
Of the forwards who could be trade bait for a legitimate defenseman (i.e. not wastes of assets like Hal Gill), Voracek is a player that has a lot of value without necessarily hemorrhaging the organization's future if traded.
At the start of the season, Voracek and Simmonds were two players who had played adequately up until that point in their careers but had yet to break out among the elite. Simmonds has currently broken his previous goal scoring record and has established himself as a well-rounded, physical player.
Voracek, on the other hand, is on pace for just 14 goals and 34 assists, putting him on pace for the same exact numbers he had in Columbus.
There is still potential that, as a 22 year-old, Voracek's game could continue to progress. He plays like a larger, stronger Ville Leino and could be a future replacement for Jagr on the top line.
How long do you wait for potential to realize itself, though? Voracek is set to be a restricted free agent at the end of the season and will likely be due at least $3 million in his next contract. As a comparison, the New York Islanders' forward Frans Nielsen just signed a four year, $11 million contract today ($2.75 million cap hit) and projects to finish the season with 14 goals and 25 assists.
Voracek does have added value for his versatility.
Last season, he averaged a mere 0.03 minutes per game of shorthanded time. In other words, he was not used to kill penalties at all. This season, though, he has been utilized in this role without losing a step, even when Giroux and Couturier were out of the line-up.
Many did not notice Voracek on the PK until the blowout in December against the Boston Bruins, but coach Peter Laviolette has been feeding him more than 3:00 of shorthanded time since the 5-1 win against the Washington Capitals, when both Giroux and Couturier were still healthy.
There is no immediate impetus for the Flyers to move Voracek. He has fit in very well in the locker room and general manager Paul Holmgren has stated that he doesn't want to mess with the team's chemistry.
If the Flyers want to acquire more than just a rental defenseman, though, they are going to need to move assets. Although there aren't any wingers in the Flyers' farm system that could immediately replace Voracek, the Flyers have historically been very good at drafting and developing forwards.
Defensemen? Not so much.
For the latest Flyers news and updates, you can follow me on twitter (@JoshJanet).