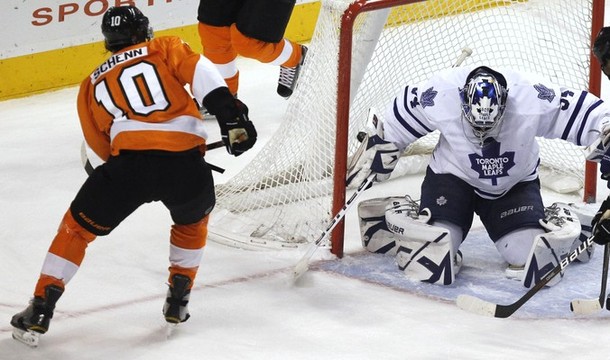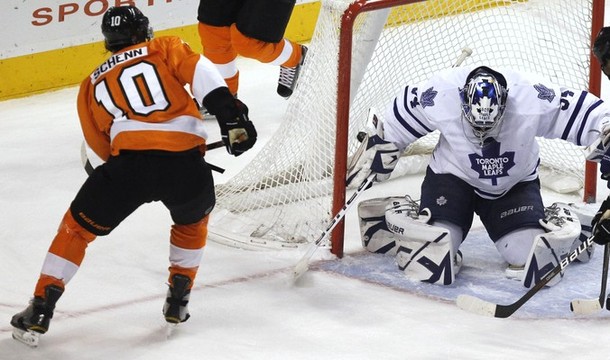 The Flyers entered tonight's game with the Toronto Maple Leafs having lost three in a row to Atlantic Division rivals. Despite grabbing an overtime point from the New York Islanders, there was additional motivation to right the ship before heading into a weekend with games against the New York Rangers and Detroit Red Wings.
In spite of some questionable defense around their own net, the team was able to score their way out of defensive lapses by a 4-3 margin thanks to the reemergence of the top line and the continued development of Brayden Schenn.
The game opened with high-sticking penalties from both Schenn brothers and then was taken over by the Flyers. They were able to hold the Leafs to just five shots on net while earning sixteen of their own through the first period.
Scott Hartnell shot a bouncing puck past Leafs' goaltender James Reimer at the 14:48 mark to open the scoring and fought with Leafs captain Dion Phaneuf seconds later.
For whatever reason, this team is terrible in the opening minutes of periods and the trend continued in the second period as center Tyler Bozak was able to tie the game by whipping around the net and bouncing the puck off Braydon Coburn's skate.
The play continued back and forth in the following minutes until Max Talbot redirected a shot from Andrej Meszaros at the point.
"I think that we've got good defensemen and you notice them more in the defensive zone and when they're moving the puck out of our zone but he, especially early on in that game, I thought he had a presence offensively," said coach Peter Laviolette about Meszaros. "He seemed to be up on the rush and trying to generate and look for offense."
Unfortunately, Mesz followed that "plus" with a holding penalty that former Flyer Joffrey Lupul was able to capitalize on.
Claude Giroux once again grabbed the lead after taking a pass from Hartnell from behind the net and roofing it over Reimer. It was his second non-empty-net goal in seventeen games. The assist also earned Hartnell his second "Gordie How hat trick" with the Flyers.
"It was certainly good to see them cash in. They had 16 shots on net last game and probably 30 attempts, so I mean, it's not like they couldn't find it. It just wasn't able to go in the net," said Laviolette about the top line. "I don't know if it's a 'relief' as you're describing it. I think that they had a good game, but they've been like that all year."
Schenn earned what would eventually be the game winning goal 74 seconds later off a rebound from a Danny Briere shot. Schenn now has four goals and 1 assist over the last seven games. He and Wayne Simmonds have really stepped up the secondary scoring.
"It finally feels like he's here and a contributing factor," said Laviolette." It was a tough start when you have three injuries the way he did right from camp. You train all summer, you come to camp, you hope to come in and have an impact, and they're substantial injuries and substantial time. I think it takes away from everything- your timing, your conditioning, and the game shape you need to be in in order to play and I do feel like now he's getting it back and finding his way out there."
Bozak scored his second of the game late in the second period, but the Flyers shut down the Leafs through the third period for the win.
Sergei Bobrovsky, starting in net because Ilya Bryzgalov was reportedly sick, had nearly identical statistics and record compared to Reimer before the game and looked adequate. He let in three goals on twelve shots through the first two periods, but defensive breakdowns and lack of support could be blamed for two of them.
In general, the biggest concern following the game is still the lack of a physical presence from the team around their own net. I keep hearing that the Flyers need a big bodied-defenseman like Chris Pronger, but Coburn is 6'-5". He needs to play with more of an edge if the team is going to be successful down the stretch.
In the end, it was a good win against a team they should have beaten and will dovetail nicely into the weekend.
"Even just looking into this weekend, we can't look past these two games. It's going to be a grind out there. Two good hockey teams. We're going to need four points from the weekend." – Brayden Schenn
For the latest Flyers news and updates, you can follow me on twitter (@JoshJanet).