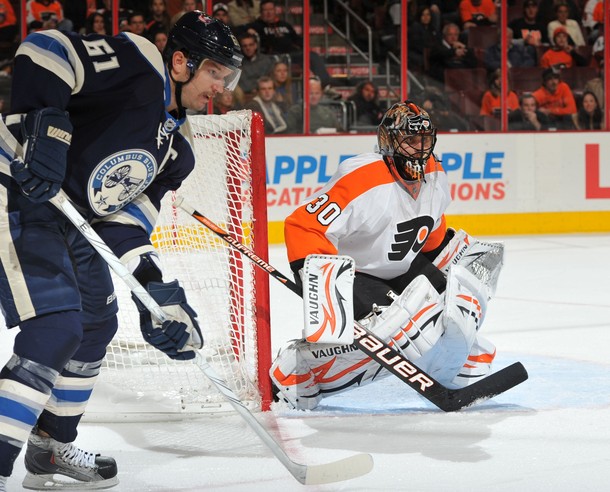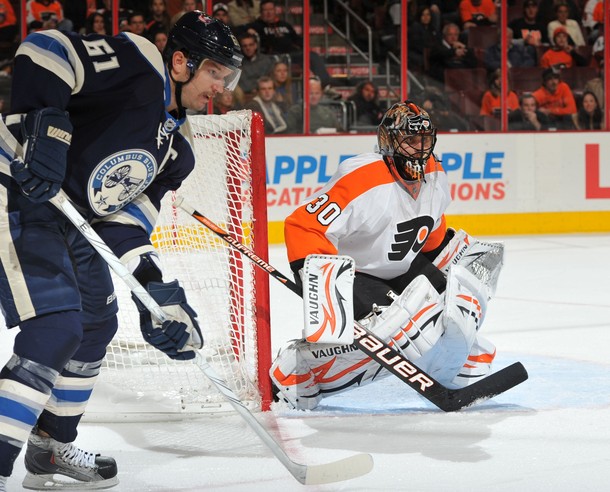 UPDATE: Courtesy of Elliotte Friedman, "There are a couple of teams… you could see Nash wanting to play for — the New York Rangers, Toronto Maple Leafs and Philadelphia Flyers. New York's highest-paid players, Toronto's top five and Philly's top six were either free-agent signings or arrived in trades.
"The tough thing about trades like this one," said another GM, "is that Columbus is starting in a bad position. Chances are, you're giving up the best player."
That's Toronto's biggest problem. Don't see how the Maple Leafs have what Columbus wants. But Maple Leafs GM Brian Burke is nothing if not creative and, if any can pull off a complicated deal, he's the guy. Should Columbus want to use this to solve its goaltending problem, I'm not sure if the Rangers can do it without that same creativity.
Which leaves Philadelphia. There are a lot of teams who think this has Flyers written all over it. They've got a young goalie."
Considering the drama that has begun to unfold in Columbus with the Blue Jackets already a lock to miss the postseason (the first place Detroit Red Wings have 40 more points), it doesn't come as a surprise that Blue Jackets general manager Scott Howson has made it clear publicly that, should an offer blow him away, he would be willing to trade captain Rick Nash.
Nash, 27, has tallied on average 33 goals and 65 points per season since the lockout (assuming you throw away this season's totals as an aberration). The 6′-4″ winger is a player that every team in the NHL would love to have, but unfortunately for them, Nash has a "no move clause" in his contract. That means that he has to approve of a trade if he is going to let the team ship him out.
The closer that the trade deadline approaches, the more pressure there has been on Howson and Nash to talk about parting ways. The current belief is that Nash doesn't necessarily want to leave, but he recognizes that it could take awhile before Columbus becomes a competitive franchise again and he isn't getting any younger.
It's been reported by Nick Kypreos of Sportsnet and TSN's Bob McKenzie that Nash has given Howson a list of destinations he would accept a trade to. It is "believed to be a very short list" according to Kypreos and there is much speculation that cities like New York, Toronto, and Philadelphia are on that list.
After taking logistics and needs into consideration, it's very unlikely that Philadelphia makes a move to acquire Nash.
To begin with, his current contract carries a $7.8 million cap hit. The only way I could envision fitting Nash on the Flyers is if A) the front office could somehow convince Danny Briere or Scott Hartnell to waive their no move clauses (which is 100% not going to happen) or B) Columbus didn't learn from the mistake of taking on Jeff Carter's 11-year contract and agreed to take on Ilya Bryzgalov's 9-year contract.
For a team scoring 3.23 goals per game (2nd in the NHL), the Flyers also have no need to trade for Nash. While he would look great in orange and black, he would by no means fill a gaping hole in the offense that would be worth trading away young prospects and draft picks. My best guess is that, if the Flyers were serious about trading for Nash, it would take Wayne Simmonds, Sergei Bobrovsky and a 1st round draft pick just to start the conversation.
There is a much higher chance that Nash ends up in Toronto than he does in Philadelphia, and I believe that this development is the only reason that a trade has not happened yet between the Leafs and the Flyers.  Nash epitomizes the type of forward that Maple Leafs general manager Brian Burke has been targeting all year, and would be a more talented player to obtain than recent trade bait James van Riemsdyk (no disrespect meant to #21).
If the price ends up being too high or Burke is outbid for Nash, the Flyers are basically "Plan B." Luke Schenn finished with the least amount of ice time among defensemen in last Saturday's 5-0 loss to the Montreal Canadiens and has seemingly become expendable. That is a trade that makes sense for Paul Holmgren.
For the latest Flyers news and updates, you can follow me on twitter (@JoshJanet).