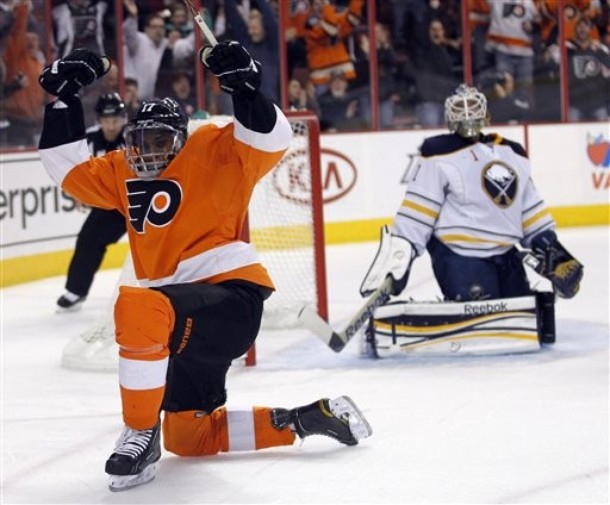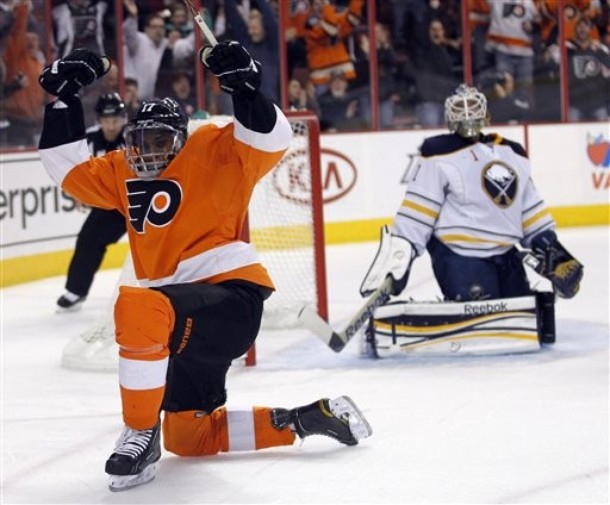 As if it weren't bad enough that James van Riemsdyk is still out with a concussion and Jaromir Jagr had to miss tonight's game against the Buffalo Sabres with the flu, the Flyers lost Danny Briere (upper body injury that could be his shoulder) and Tom Sestito (lower body injury that could be his hand after a fight with Zack Kassian) fairly early when the team was already down 2-0.
Skating with just ten forwards, the odds were stacked against the Flyers despite facing a 14th place club in the Sabres.
Starting with a goal from Max Talbot at the 00:54 mark of the second period, the Flyers went on to score seven unanswered goals against both Jhonas Enroth and Ryan Miller.
Both Talbot and Wayne Simmonds finished the night with two goals each while Jake Voracek, Scott Hartnell, and Erik Gustafsson padded the lead. Gustafsson's goal began with a fantastic rush into the offensive zone by Voracek, who drew a defender in deep and then passed the puck back to Gustafsson.
With the acquisition of defenseman Nicklas Grossman, one of Gustafsson or Marc-Andre Bourdon will have to be sent back down to the Phantoms (assuming Andrej Mezsaros' upper body injury doesn't linger for awhile). Based on ice time, it is likely that Gustafsson will be sent down.
Claude Giroux finished the night with five assists, pulling him to within two points of Evgeni Malkin for the league lead in points.  Unless Giroux gets hot again down the stretch, I don't see him winning the Hart trophy, though he could still earn a nomination.
This win couldn't come at a better time. The Flyers entered the game having won just two of their last eight games and with all of the injuries continuing to mount, blowing out their competition has to help their confidence in the face of adversity.
The Flyers should have Grossman available for Saturday's afternoon game against the Pittsburgh Penguins. Hopefully the team can build off this win and put some distance between themselves and their Atlantic Division rival in the standings.
For the latest Flyers news and updates, you can follow me on twitter (@JoshJanet).