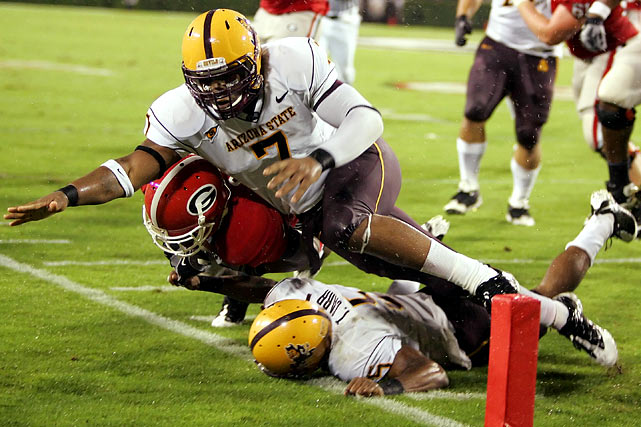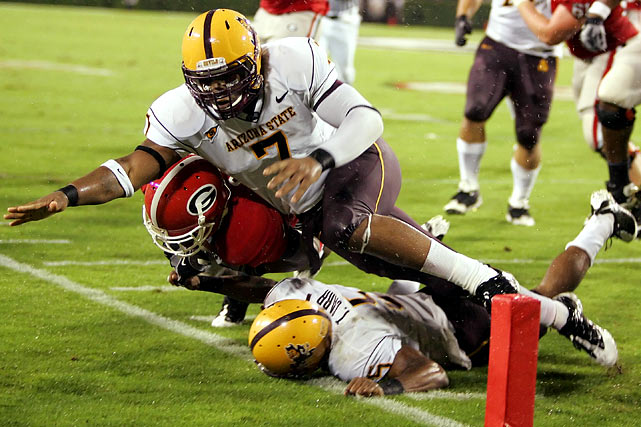 Arizona State's middle linebacker Vontaze Burfict is definitely an impact player.  He plays the game with a chip on his shoulder, which is something you like to see at the middle linebacker position.
He plays a physical brand of football.  More than any other college linebacker, Burfict drives ball carriers backwards.
There's no question that he is a talented young linebacker, who plays the game passionately but his fundamentals must improve drastically.  He's got to learn to shuffle rather than stand up and run.  When you commit one way without shuffling, it's nearly impossible to come back the other way.
Burfict delivers a pop when he comes into contact with ball carriers.  He reminds me of Jeremiah Trotter with the way he's able to blitz against offensive linemen and pound them before they can get out of their stance.
He's got to develop his pass coverage skills.  I would also like to see him do a better job of using his hands with offensive linemen and getting off of blocks.
Burfict has a big upside, but that means play passionately but under control.  He's got to play smarter and control his emotions to avoid getting stupid penalties, but I do like the attitude he brings to a defense.
I'm not sure he's a middle linebacker in a 4-3.  I would lean more to him being an inside linebacker in a 3-4 than a middle linebacker in a 4-3.  He just doesn't make enough plays because of his slow reads and bad technique.
I think ultimately he might wind up being an outside linebacker in a 3-4 defense.  If he works at his game, he could make an impact in the NFL.