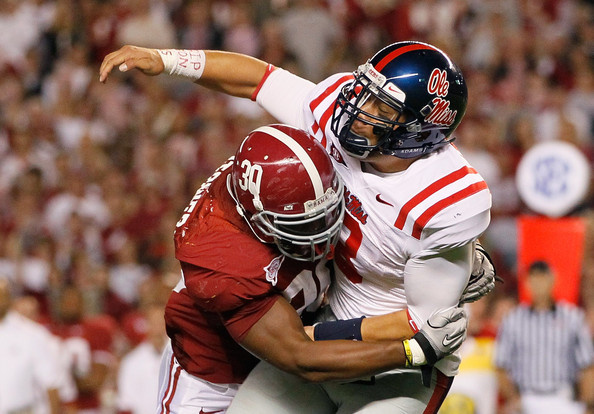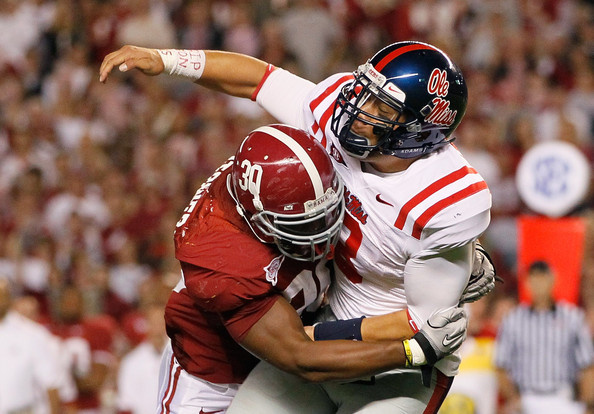 I think right away that Dont'a Hightower is a special athlete but he doesn't seem to recognize things as quickly as Luke Kuechly at the middle linebacker position.  Kuechly seems to be much better inside the box against the running game.   I would immediately have Hightower bend his knees more so that he could be more explosive, if I were his coach.  He catches the blocks too much rather than exploding from his legs into them.
I do like the ability he has shown as a linebacker with the upper body strength to play big linemen with his hands, get off them and make tackles.  Most linebackers have to use their shoulders and forearms, but Hightower uses his hands very well.
He also has tremendous pass rush ability which would make extremely valuable on third downs.  You could have him put his hand down in a three point stance or blitz from a stand up position.  You would be adding another polished pass rusher rather than having a linebacker blitz who doesn't know how to rush the passer.
I also like him as a pass coverage guy.  He changes directions very well and covers a lot of ground.
I could understand teams being excited about him because of what he'll be able to do on 3rd down.  It's very unusual to have a middle linebacker who is able to cover and rush the passer like Hightower.  He must improve his play against the run from the middle linebacker position.
Take a look at Dont'a Hightower in action.
[media id=240 width=320 height=240]