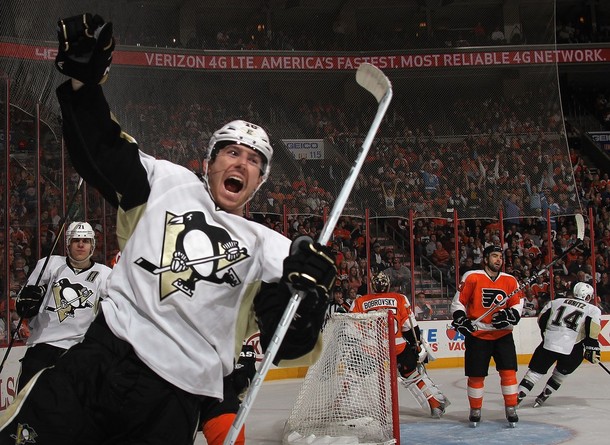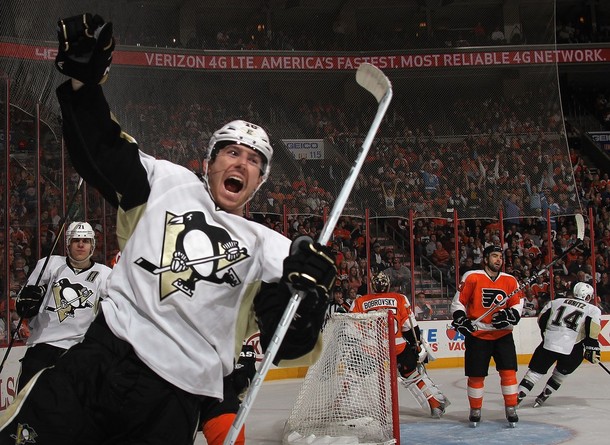 Today's afternoon hockey game between the Flyers and the Penguins was one that newly acquired defenseman Nicklas Grossman will want to forget.
Grossman was one of a handful of Flyers who managed to finish with a positive +/-. He came exactly as advertised: quiet game, no shots on net, but finished with eight hits (more than anyone else on the ice).
The rest of the blue line, on the other hand, was atrocious.
Matt Cooke opened the scoring early, outworking Andrej Meszaros on the rush and beating goaltender Ilya Bryzgalov, who must have thought Cooke would pass first.
Jaromir Jagr, skating on a line with Danny Briere and Matt Read, sniped two identical goals in an eighteen second span.
There was very little rhythm to be found for either team for the next twenty minutes of play, as the officials called seven penalties between both teams in that span.
The turning point for the Flyers, though, was a powerplay awarded after Pascal Dupuis went to the box for tripping. With a marginal 2-1 lead, it was an opportunity to put some distance between themselves and the Penguins.
Instead, they completely blew it. Claude Giroux flung a blind, backhanded pass into open ice in the offensive zone that Craig Adams intercepted to start a rush with Jordan Staal the other way. Jake Voracek was in position to block his shot or force it wide, but Staal fired on net and Bryzgalov wasn't quick enough to react to it.
The officials even gave the Flyers another opportunity, sending Brooks Orpik to the box for hooking. Instead, Jake Voracek got caught extremely deep in the offensive zone instead of remaining on the point and a bouncing pass from Giroux to Timonen made its way back out to center ice. Matt Cooke outworked Timonen this time, skating on net and wristing it over Bryzgalov.
Bryzgalov was pulled after the second shorthanded goal, having stopped just ten of thirteen shots. Sergei Bobrovsky, unfortunately, fared no better, eventually letting in three more goals on seventeen shots in the third period.
After the shorthanded goals, Peter Laviolette kept Kimmo Timonen on a tight leash.  On his first shift, Timonen backhanded the puck from behind the net right back into traffic instead of sending it around the boards.  Dustin Jeffries put it into the back of the net seconds later.
Timonen was benched for the remainder of the game after just two more shifts. As a veteran who was quick to call out his teammates for not playing a full sixty minutes recently, his lack of effort on the second shorthanded goal along with the poor play to give the lead back to the Penguins 37 seconds into the third period was deflating.
When the final buzzer sounded, both Bobrovsky and Bryzgalov each had 0.900 save percentages, good enough for the 41st and 42nd best ranked goaltenders in the NHL.
If there were any other positives besides Grossman to take from the game, Eric Wellwood and Wayne Simmonds come to mind.
Wellwood, skating on the fourth line with Max Talbot and Sean Couturier, was buzzing early. He was able to use his speed and energy to force the puck back into the offensive zone on a number of shifts, including a tremendous shift late in the second period to tie the game.
Wellwood poked the puck clear of defenseman Matt Niskanen and raced after it in the neutral zone. Derek Engelland retrieved it and headed back into his own zone, but Wellwood raced right after him. Engelland ended up falling down and Wellwood was right there to backhand the loose puck past Marc-Andre Fleury.  It just goes to show that hard work and relentlessness can sometimes reward you with a lucky bounce.
Wellwood's goal was the first of his NHL career and marks the eighth time this season that a Flyers rookie has scored his first NHL goal.
Simmonds scored his 21st goal of the season with nineteen seconds left in the game. It was "too little, too late" in many respects but further cements his importance to this club moving forward.
The Flyers play their last game this season against the Winnipeg Jets on Tuesday night.  Zac Rinaldo will be off his suspension, meaning that someone is going to have to be sent down unless Tom Sestito, out the next six-to-eight weeks with a groin injury, moves to IR.
For the latest Flyers news and updates, you can follow me on twitter (@JoshJanet).