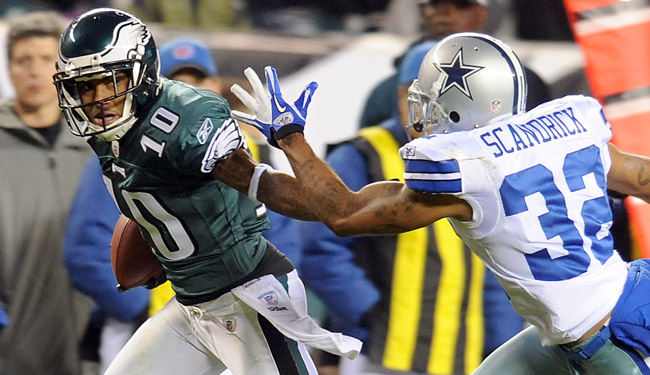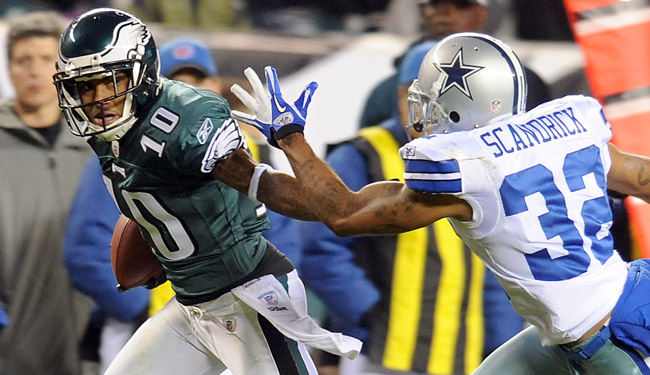 The Eagles have nearly a week to sign DeSean Jackson to a long term deal before being forced to make a decision about whether to franchise him or let him go.  The cut off date is next Monday March 5th.
I believer there's an offer coming from the Eagles to Jackson and it's probably a three-year deal in the $20-$25 million range with bonus money and a $6-$7 million range salary per season.  I see them giving Jackson until Sunday March 4th to accept their offer.
If the speedy wide receiver and his agent Drew Rosenhaus decline the offer, then he will be a goner and will not be franchised.
The Eagles are not going to pay above what they feel will be a good fair offer.  It goes against everything they do.   Why would they risk having to spend $9.4 million on a wide receiver for the 2012 season, when that player rejected their offer.  They would only end up losing Jackson after 2012 anyway.
If no deal is struck within the next week, then he's a goner, no doubt about it.  To be honest with you, I hope he goes.
If I know one thing about the way the Eagles front office operates, it's that one player will never hold this franchise hostage, not Terrell Owens, not Lito Sheppard, nor Michael Lewis, nor Corey Simon, or Jeremiah Trotter, not Sheldon Brown, not Hugh Douglas,  nor guard John Welbourne (if you remember him), not Shawn Andrews, nor Brian Dawkins, and D-Jax will not be the first one either… It's the way it is.