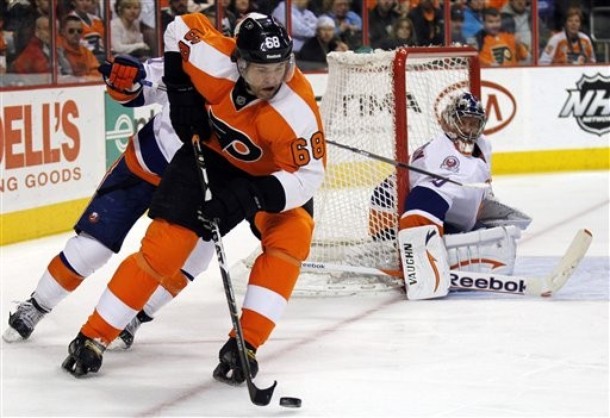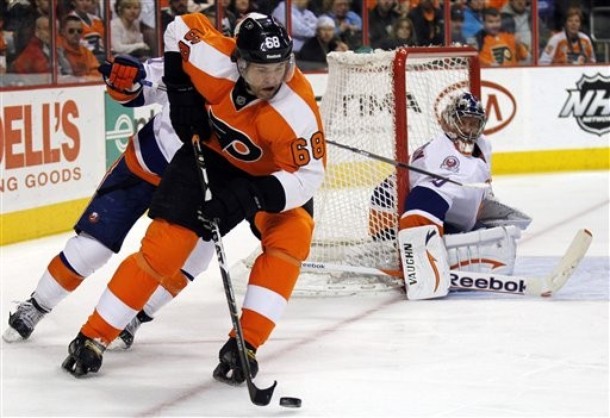 Earning two of a possible four points on their recent Western road trip, the Flyers were looking for a strong win at home against the Islanders to gain traction heading down the stretch.  By all accounts, their efforts to win by a 6-3 margin have helped them take that first important step.
The game did not begin the way they wanted, unfortunately.  Just like in San Jose, the Flyers allowed a goal within the first two minutes. I reviewed the Flyers' record yesterday and found that they have allowed their opponents to score in the first five minutes a grand total of sixteen times this season (now seventeen).  To take that one step further, they've allowed opponents to score in the first two minutes nine times (now ten).
More than a quarter of the season, they've been down a goal in the first five minutes.
It's going to be a short postseason if they find themselves playing catch-up hockey all the time, but thankfully tonight, the Islanders held the lead just briefly.
Matt Read and Andrej Meszaros each scored in the first period while assisting on the other's goal.  Read, skating on a line with Wayne Simmonds and Danny Briere, would go on to score his second of the night in the second period. Jaromir Jagr, Scott Hartnell and Sean Couturier (empty netter) also scored for the orange and black.
Further boosting the team's morale moving forward were the milestones achieved by several players tonight. Hartnell's goal marks his 31st of the season and the largest total of his NHL career to date. Kimmo Timonen's assist on Jagr's goal marked the 500th point of his career while Jagr has now surpassed Joe Sakic as the #8 all-time points scorer in the NHL with 1643.
The team will be without the services of James van Riemsdyk after he broke his foot blocking a shot. It's unknown at this point how much time he will miss, but the regular season is set to end in just five weeks. It would be incredibly optimistic to think he will be ready before then, but hopefully he'll be available by the playoffs.
I have no idea if his laying out to block a shot and getting injured will add to or diminish the widespread opinion that he's a "soft" player.
The Flyers don't play again until Sunday night, when they visit the Washington Capitals. The Caps have been a shell of their former selves this season, but they have won their last three games and have squeaked back into playoff contention.  The Flyers need to control the game from the outset (for a change) because the Capitals, fighting for their lives, are unlikely to give them much to work with.
For the latest Flyers news and updates, you can follow me on twitter (@JoshJanet).