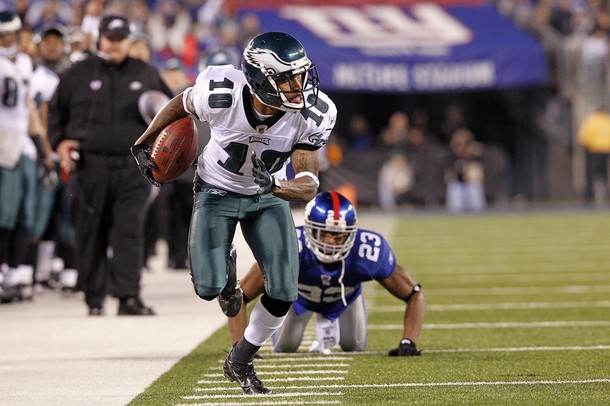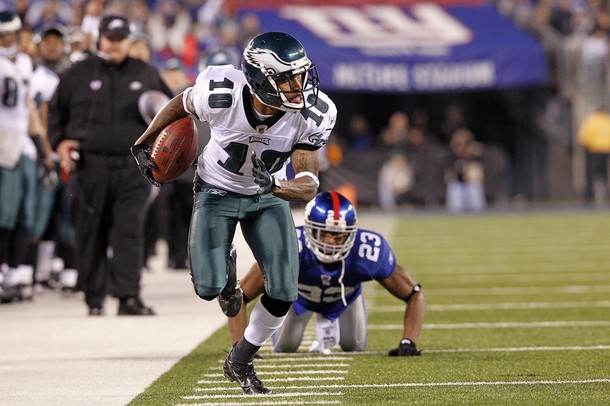 For weeks now reports stated the Eagles will use the franchise tag on wide receiver DeSean Jackson. On Thursday it finally became official as the franchise tag was placed on number 10. The Eagles became the first team this off-season to utilize the franchise tag. If the Eagles don't sign DeSean long term he would earn $9.4 million next season or $552,941 per week which is nearly as much as he made all of last season.
From day 1 the Eagles have mismanaged the contract situation with DeSean. They let him play out this past season as one of the lowest paid players on the team and clearly his mind wasn't 100% focused on opponents because of it. DeSean knows he was underpaid, the Eagles know he was underpaid, so hopefully everyone can put last season behind them and move on. Placing the franchise tag on Jackson hopefully is the first step in signing him long term with the club.
I've been a supporter of DeSean from the moment he stepped on the field in Eagle green. He's been nothing short of a playmaker so far in his career and players like that are special and need to be taken care of. Top of the line, electrifying playmakers don't come around often and the Eagles have a chance to lock one up at a young age. DeSean stated on Thursday "I am honored that the Philadelphia Eagles Organization perceives me as a franchise player. I look forward to getting a long term deal done soon and being an Eagle for many years to come."
Eagles GM Howie Roseman was at the NFL combine last week and was optimistic about striking a long term deal. Roseman stated the following in regards to the announcement of the franchise tag being placed on DeSean Thursday. "We want DeSean to be an Eagle for the long haul and this is a step in the right direction to accomplish that. DeSean is a talented player and a proven playmaker in this league and we look forward to him continuing his career in Philadelphia. It's our understanding that he has the same desire. We will continue our efforts in getting a long-term deal done with him."
Both parties have expressed interest to work out a long term deal so hopefully it will happen because as we all saw during the Cardinal game in November this Eagles offense has no explosiveness or electricity what so ever when DeSean isn't on the field. Although both DeSean and the Eagles have expressed interest in working out a long term deal ESPN NFL Insider Adam Schefter is reporting on ESPN.com the Eagles are still in fact open to listening to trade offers for number 10 so the possibility still exists for DeSean to be elsewhere next season if a long term commitment can't be worked out.
I've heard all the haters throw DeSean to the curb this past season because of his poor performance. A performance that still almost netted him a thousand yards receiving with 961 yards and that was in a down season. But let's face it every athlete at some point in their career will have a bad season and I truly believe last season was it for DeSean. I expect to see more of the DeSean we saw during his first 3 seasons in 2012 now that the contract situation will be behind him.
The Eagles finished 8-8 in 2011 and last time I checked DeSean Jackson wasn't the one letting 4th quarter leads slip away or throwing turnovers in crucial situations. For those of you out there who wanted DeSean to leave town after 2011 you may still get your wish if they do in fact deal him elsewhere.
The bottom line is this team had a ton of issues last season that had nothing to do with the play of DeSean Jackson so everyone who went after him should look at the defense and the poor quarterback play as the main reasons why this team underachieved. Going into 2012 the Andy Reid era is on the line and Mike Vick needs to have a bounce back season which can happen with a happy DeSean Jackson on the field. Throw in the desire Plaxico Burress has to join the Eagles which could add a red zone threat and this offense could be set up for a monster 2012 season.
If the Eagles and DeSean can't work out a long term deal I wouldn't be surprised at all to see the Eagles deal him to another club on draft day. It makes sense to get compensation for him rather than risk losing him to free agency after next season. With a strong wide receiving class available in free agency it could make sense for the Eagles to move DeSean and fill his spot with a free agent receiver such as Vincent Jackson or Marques Colston.
I expect none of that to happen though as I believe a long term deal will happen before the season begins. Mike Vick is already familiar with DeSean and has a strong relationship with him. With so much on the line in 2012 it only makes sense for the Eagles to go into battle with DeSean part of the team. Jackson wasn't the problem in 2011 and hopefully this is the first step in allowing him to get back to being the explosive receiver we all know he can be.