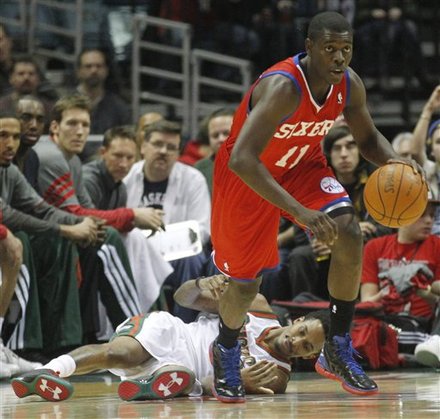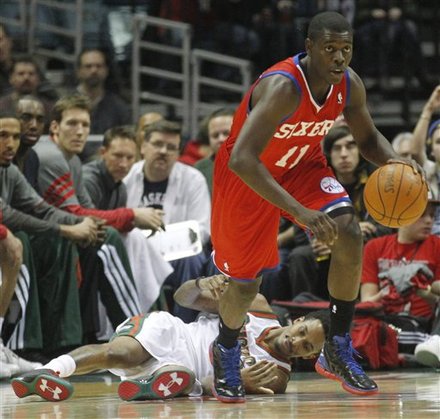 So who far can this Sixers team go as constructed? Has this roster maxed out? There is nothing wrong with that if that is the case. This season is really about growth. They play hard every single night. They move the ball around unselfishly. They can defend almost all teams every single night. Where they may have maxed out is on the offensive end.
They are now 2-11 in games decided by 7 points or less after losing to Bulls on Monday night, then the Bucks. By the way, the Sixers got what they deserved against the Bucks, 97-93. They let him score 25 points. Drew Gooden?! You have to be kidding me! Relax Joe.
They are also 6-13 against teams that are .500 or better. Ouch. They lost to the Bulls by 5 points, Bucks by 4, OKC by 4 points, Dallas by 7 points, Clippers by 1 point, Houston by 6 points, Timberwolves by 1 point and lost to Denver/Nets in overtime. In every one of those games they had a chance to close them out.
As of a couple of weeks ago people thought that maybe Lou could be their closer. He could still be but just at times. He is not consistent enough at the end of games. That's what is killing this team right now, not finishing games. They also have had these stretches late in games where they can not knock down anything. This team drives me nuts when they settle for the jumper. They NEED to attack the rim and create contact to get to the charity stripe.
This team needs a go to guy. That is stating the obvious, Chris Wheeler style. The Sixers GM, Rod Thorn has come out and said that he would like to keep this roster together for the whole season. As frustrated as I am right now that the way they are losing games I am cool with that. I do not want them to make trade just to make a trade and hurt their cap space.
For example, "Iggy" and Lou for Monta Ellis in which I heard over the weekend. That is too much to give up for Ellis. Straight up that is a different story. Thorn, also has said if the right deal for the right player comes along he would do it. It seems as if they will just do a minor deal most likely for a big-man. Hawes might be back in a week and half but the Sixers can not really count on him. His injury will most likely plague him for the rest of the season.
The way they have been losing games, does this force Thorn's hand quicker than he would like? We will find out. Now to get back to my main question, so with this roster as it is right now how far this team can go? Depending on the matchup they could go to the second round even with their struggles of late. If they draw the Hawks or the Pacers in the first round I believe they can win. They might even have a shot at Orlando if they have home court against them. I would like to see them win a round or play a tough 7 game series to call it a good season for them. This is all about stepping stones with them.
I am trying to look at the big picture here even though it is very hard right now. I have to get two new remotes because I broke both of them after this game. One of the steps was to see what they had in the roster and to see how far it would take them. They still have some questions to be answering especially Evan Turner. Turner just seems to be lost right now. His minutes are way down though he got 32 minutes against the Bucks. He is the most important player they need to find out about. The next step is to see who stays or who goes. That answer might come sooner than later. The trade deadline is March 15. Tick, tick………