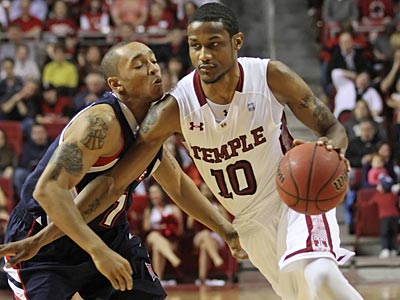 Months of speculation officially ended just after 5:35 pm Wednesday afternoon as the Big-East conference announced Temple officially joined the Big-East.
The school will join the Big-East in football effective July 1st, 2012 and for basketball effective July 1st, 2013 which means Temple basketball will have one final season in the Atlantic 10 after this season.
Once Temple joins in all sports in 2013 it will mark the first time in school athletic history that all sports have competed in one conference in its history.
"This is arguably the greatest day in the history of Temple Athletics," Temple's director of athletics Bill Bradshaw, said in a statement.  "For the first time we will have all of our athletic programs playing in one conference, and there is no conference that is a better fit for Temple than the BIG EAST. It also will provide a national platform in a BCS conference for our teams and student-athletes to compete with other highly respected educational institutions. We look forward to a long and mutually beneficial relationship with the BIG EAST and its member schools."
Temple nor the Big-East confirmed or denied during the press conference how much of Temple's exit fees were to be paid to both the Atlantic 10 and Mid American Athletic conferences, however the Big-East acknowledged it will assist Temple in its fees, but  the specifics were not made known Wednesday. Temple issued a statement on the issue prior to the press conference.
"The change [in conferences] will also create immediate financial opportunities that will benefit Temple Athletics and the university. Temple's costs associated with the move to the BIG EAST, in particular the withdrawal fees owed to the MAC and the A-10 conferences, will be paid from added athletics revenues that the school will receive from its new conference," the university said in a statement.
It has been reported by multiple sources that the Big-East is expected to pay all $7 million dollars in Temple's exit fees, 6 million to the MAC, 1 million to the A-10.  No one could have seen coming after the school was given the boot back in the early 2000's.
Temple's football program was an original member of the Big-East from 1991-2004, but was kicked out due to the fact the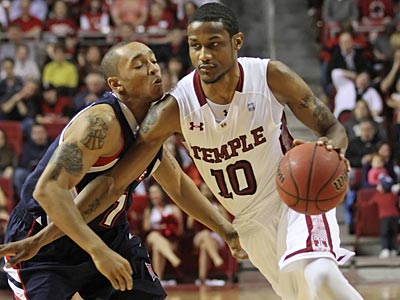 school could not compete on the field and in generating revenue. The Big-East in a sense came crawling back to Temple once it found itself in a scheduling mess due to West Virgina's early Big-East exit.
"It was dreadful several years ago…we didn't deserve truthfully to be in a football competition for those years but it's hard to get kicked out," Lewis Katz chairman of the Temple athletic committee said when asked if talks were awkward at first, after getting kicked out of the conference.
Katz was far from bitter during the press conference Wednesday,mainly because the program is in good shape financially as a result of the move to the Big-East.
"With-out the specifics you guys have raised our athletic budget 800% next year," Katz said.
Talks about Temple rejoining the Big East between Temple and the Big-East began 16 months ago at a New Jersey diner.
"A lot of the things John were faced with were fluid, I just would call it an introductory meeting about the future," Temple Athletic director Bill Bradshaw said on the early stages of Big-East talks.
Temple head coach Steve Addazio's focused on Temple's growth and where it is going in the future.
"It's great vision having Temple come into the Big-East conference…Like Temple has evolved Philadelphia has evolved what we are doing right now is not trying to fumble around and find our way into major college football this is a plan that has been going on for quite some time now," Addazio said in his opening statement. "Our Basketball facility is a brand new multimillion dollar facility our football facility will be finished July 1st…I could go on and on but I know this it's an exciting time for Temple."
Temple head basketball coach Fran Dunphy was unable to attend the press conference because he was in Atlantic City preparing for the upcoming Atlantic 10 Tournament. However, Dunphy commented on Temple's Big-East move through a university statement.
"Over the last three decades we have built great relationships and wonderful rivalries in the Atlantic 10 Conference.   Now, with the changing landscape of intercollegiate athletics, we are able to have all of our sports in one conference – The Big East Conference.  So, after next season, we will be saying goodbye to old friends, which is never easy, but making new ones which is exciting.  We look forward to the challenge of competing in the Big East Conference, and continuing to represent Temple in best possible way."
There was plenty of excitement for Temple's move to the Big East Wednesday in New York, however, there was a large elephant in the room named Villanova. Watching the two school's interact during the presser was like watching a good buddy of yours run into his ex-girlfriend while at a bar…AWKWARD!
The press conference opened with Big-East commissioner John Marinatto and chair of the Big East CEO executive committee Judy Genshaft praising Villanova's efforts in the process. Genshaft and Marinatto wanted to make it seem as if all was fine and dandy between Villanova and Temple during the process of Temple's move to the Big-East, however, Lewis Katz informed the media otherwise.
"Everything you read about Villanova and Temple was true," Katz said. It was just one sentence, but it may have been the most significant sentence said, in the entire press conference.
It was easy to see the threat of Temple weighing on Villanova during Villanova's opening statement  in Wednesday's press conference. Villanova's Father Peter Donahue opened by mentioning the school's Final Four appearances and 1985 National Championship before even mentioning Temple. A little odd considering everyone was there to talk about Temple, don't ya think?
Listen to opening statements of Temple Athletic Director Bill Bradshaw, head Football coach Steve Addazio, Villanova's Father Donahue, and  Big East commissioner John Marinatto here: http://youtu.be/NnnLWincOHs