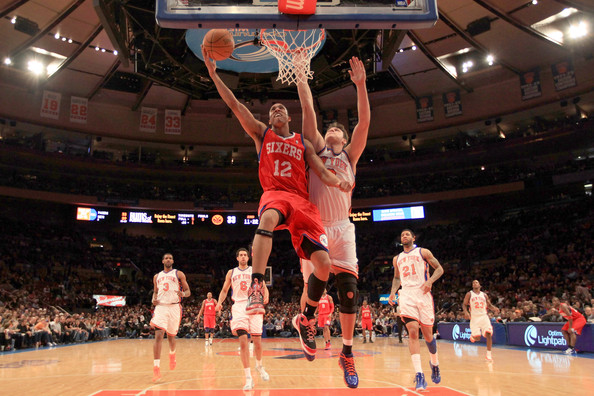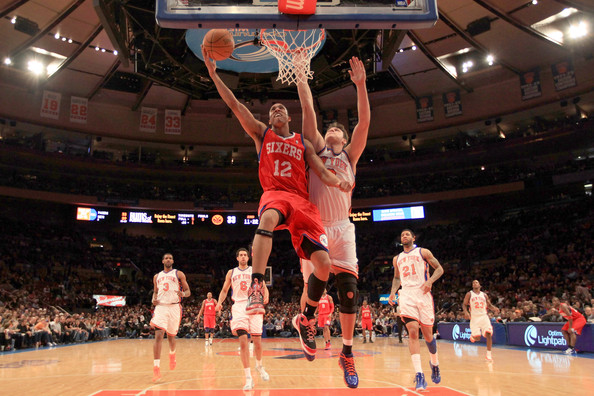 The number two pick in the draft last year has started to finally look like a number two pick. Evan Turner has stepped up in his last few games since taking over as a starter with a career high 26 points against the Celtics followed by a 16 point, 12 board and 6 assist game against the Utah Jazz.
On Sunday in a huge Atlantic Division game vs the New York Knicks, Turner dropped 24 points and added another high with 15 boards.  Yes, count em' 15 rebounds.
Turner has helped the Sixers go on a three-game winning streak while averaging 16 points and 11 boards since becoming the starting (point) shooting guard. There are very few SG's in the league that put up those numbers on the boards (i.e. – Durant and James). With their win Sunday at MSG the 76ers lead the Knicks by 6 ½ games while the Celtics sit 3 games back in the Atlantic Division.
I have wanted Turner to get more playing time over Jodie Meeks for some time now and happy to see it finally happening. Evan Turner could be, and should be, a player that is on this roster for years to come.  Meeks is a decent player but there is not as much value with him in the long run if his shots aren't falling.
I feel like Evan Turner has been lacking confidence the past couple of years. At Ohio State, he was THE go-to guy and adjusting to NBA life has seemed a bit of a struggle with him. Now that coach Collins has thrown Turner into the starting lineup, I believe he is feeling more confident. I think each game will be a growing experience and that he will continuously develop as a great player in this league.