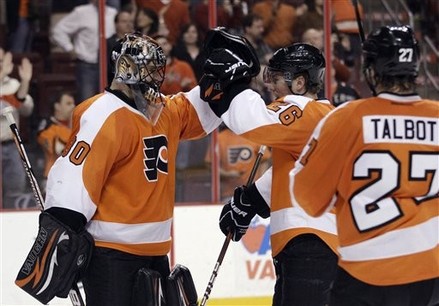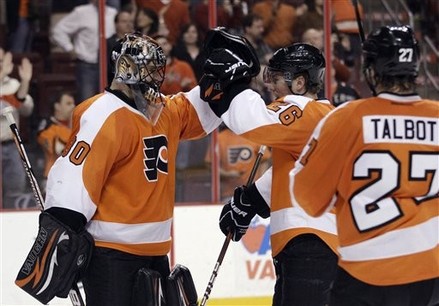 While few blame Sergei Bobrovsky for the loss to the New Jersey Devils on Sunday night, Ilya Bryzgalov entered the game with back-to-back shutouts against the Florida Panthers and the Toronto Maple Leafs. As unlikely as it could be that the Flyers would continue that streak against a team tied with them in total points for the season, Bryzgalov backed the Flyers to his third straight shutout as a playoff atmosphere bellowed behind him.
"He's obviously playing confident right now, which for a goalie is very important," said Jake Voracek.
"Confidence is something that can carry you a long way," said Danny Briere.
Bryzgalov is only the second Flyer to record this feat, as John Vanbiesbrouck also accomplished it in 1999 (in three straight games as opposed to three straight starts).
Briere was pressed after the game to once more elaborate on comments he made recently that the leadership group on the team spoke with Bryzgalov at one point this season.
"I don't know, I think that's not something you plan," said Briere, speaking about how and when players decide to speak out to teammates. "It's not something… Sometimes someone has to say something in the room to the guys. Most of the times, it comes from inside of you, it's not something you prepare and say, 'OK, if that goes on for two or three more games, then I'm gonna say this, I'm gonna say that.' It has to be in the moment."
The defense had a much better outing tonight than on Sunday, holding the Devils to just 17 shots while blocking 15 more. The penalty kill had some heavy lifting late in the game as well and was tremendous.
Part of that had to do with gaining Kimmo Timonen back. Timonen, paired with Matt Carle while Braydon Coburn continued skating with Nicklas Grossmann, finished with 19:04 of ice time. Brandon Manning, along with Harry Zolnierczyk, was sent back to the Adirondack Phantoms.
The other big storyline of the evening was the return of the offense from three players who needed the boost.
Sean Couturier opened up the scoring mid-way through the second period, taking advantage of a great bounce off the boards from a Coburn shot that landed right in front of goaltender Martin Brodeur. Couturier hadn't scored a non-empty net goal since January 17.
Voracek, returning from a head/neck injury, padded the lead early in the third period after driving to the net and taking a couple whacks at the puck in front.
With Scott Hartnell in the penalty box for his second goaltending interference penalty of the night, Devils coach Peter Deboer elected to pull Brodeur despite there being over five minutes left in regulation. The gambit failed, as Voracek found Briere driving down the right side and fed him the puck for an easy empty net goal.
"I thought our line skated well and created a lot of opportunities," said Briere. "On a lot of nights, other teams are going to match up and try to take Giroux's line away. It's important for other lines to step up. That's one thing that we have to prioritize, Jake and I, if we keep playing together. I'm giving those guys some support just like Simmonds and Read and Schenn are going to do as well."
Aside from the game itself, it was interesting how much the game had a playoff like atmosphere to it from the crowd. I can't remember the last time the Wells Fargo Center was that loud for that many stretches at a time.  The fans, much like the Flyers, were involved for the entire sixty minutes, jeering "Maaaarrrrtyyyyy" and cheering "Bryz! Bryz! Bryz!"
Even Briere remarked that he didn't know New Jersey had an empty net. He said he heard the crowd screaming and realized that something must be going on of importance.
Coach Peter Laviolette had a few final thoughts on the quality of the win.
"Neither one of the games I really liked that much [this weekend]. I don't think that we played a brand of hockey that I think can be successful on a regular basis. Tonight, we had twenty guys playing for sixty minutes in front of a goaltender who was sharp. The results, I think, they show by the chances that you generate, the chances that you don't let up."
"Today, it was, for me, one of the most complete efforts of the year, because not only were we sound defensively, we were moving and really looking to generate offensively. Every guy played a heck of a game tonight."
The Flyers play again on Thursday to take on the New York Islanders. I'd be shocked if the shutout streak continued beyond Thursday, but if there's any team that can help them accomplish the unbelievable, it's the Islanders.
For the latest Flyers news and updates, you can follow me on twitter (@JoshJanet).