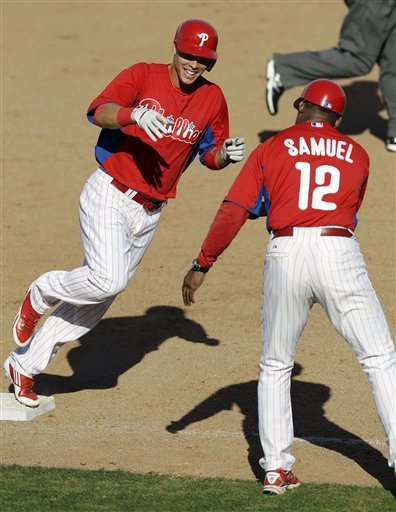 The Phillies have expressed a lack of depth in the infield due to injuries which will inevitably move John Mayberry Jr. to first base until Ryan Howard is able to return. This switch not only changes Philadelphia's infield, but now opens up a spot in the outfield.
Lou Montanez has an eye on that final spot. The 30-year old non-roster invitee is off to a great start to spring training and has given Charlie Manuel every reason to keep him in the lineup. His .471 average in 17 at-bats is in the Phillies' top five and his flawless fielding percentage shows a player who is still itching to play.
He was the third overall pick of the 2000 draft by the Chicago Cubs and after exploding onto the scene in rookie leagues, he was unable to crawl through Chicago's minor league system. After being signed by the Orioles in 2007, he was immediately assigned to their double A club, the Bowie Baysox. His success there was immediate, .335 average with 26 homeruns and 97 RBIs, but much like in Chicago he struggled in triple A.
The next season, Montanez won the double A triple crown and was promoted to the big leagues without stepping foot into a triple A stadium. His first at bat came in August when he became the first Oriole since Buster Narum (1963) to hit a home run in his first at bat. He finished the year with a respectable .295 batting average coming off the bench for the O's. He was sidelined by a broken wrist in 2009 and got another chance when the Cubs signed him to a one-year deal last season.
The match made in heaven fell apart again when Montanez was called up during his first good year in triple A to fill in for an injured Marlon Byrd. The once highly touted prospect let the organization down again batting .222 in 35 games before heading back to triple A and dominating once again.
Could now be the former first rounder's chance?
The Phillies need some depth in the outfield and Montanez could be the answer. He may never be able to live up to the hype that landed him in Chicago with a $2.75-million signing bonus, but he has proven with the Orioles that he can be a viable player coming off the bench.  He can field, run and throughout his career has shown great signs of power.
I know that he let down Chicago, but he played well off the bench for Baltimore and just needs a fresh start. He is older than Philly would like, but you can't teach a lot of the tools that make Montanez the fluid, smart outfielder that left Chicago with nothing but smiles when they called his name at the draft.
Everybody knows that down the stretch depth is extremely important and with Montanez coming off the bench, the Phils will be an even more dangerous team in October. If the Phillies take a chance on the 30-year-old, expect him to turn some heads and come up with some clutch pinch hits, which has been an issue for Philly since losing Matt Stairs after their championship.