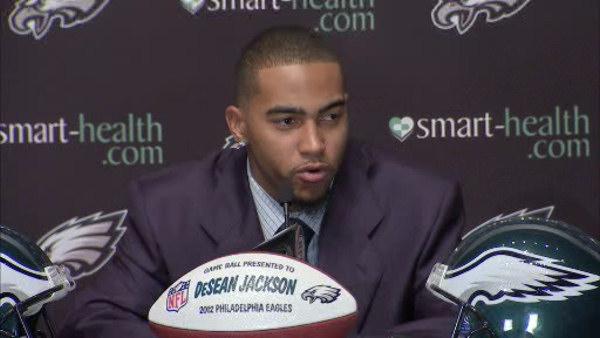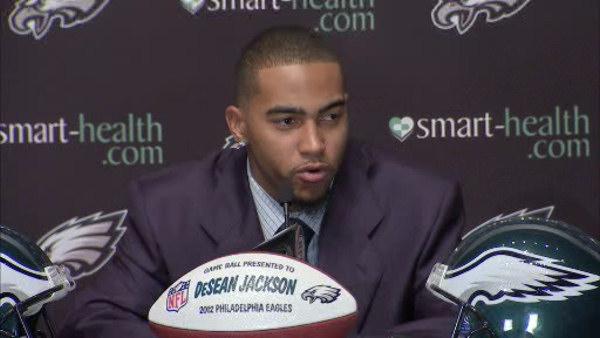 I was on 94WIP this morning with Angelo Cataldi and the Morning Guys.  We talked a great deal about DeSean Jackson and his decision to sign a five-year contract worth a total of $51 million, yet only about $15 million of it guaranteed.
The big question of the moment is why did Jackson decide to sign the deal.  Angelo feels Jackson may not believe he's very good.  I agree with that statement to an extent.  I believe he's willing to admit that he didn't play his best football a year ago.
At the same time, I feel Jackson is confident that he's going to play his best football in 2012 and going forward.   He talked about putting the past behind him and fulfilling this five-year deal.
If there's one thing Jackson has it's confidence.  Remember he's a two-time Pro Bowler, yet he weighs only 165 pounds.  This young man has overcome the odds throughout his career and I like his chances right now because he's in the right frame of mind.
The fact that he signed the deal shows me some personal growth. Earlier in his career would Jackson have come in there with a suit on and admit to making mistakes in the past.
"I may have been immature," said Jackson. "I might have made some decisions at a young age, but sitting back, going through my 5th year in the NFL, it's like night and day. I'm more mature. I am a totally different person."
He could have continued to demand more money and played through this franchise year, gone elsewhere and probably gotten a better deal.  Instead, I think he gave Andy Reid and the Eagles credit for first of all drafting him and deciding to guarantee him the $9.4 million with the franchise tag.
He knows that Reid and Marty Mornhinweg know how to use him in the offense.  Jackson is also comfortable with Eagles quarterback Michael Vick and his ability to get the ball to him on his deep routes.  I think he measured the positives and negatives in the situation and decided to remain an Eagle.
The younger DeSean Jackson would have never signed this deal while Vincent Jackson, Pierre Garcon and others wide receivers were getting more guaranteed money.
I think the decision itself shows maturity.  He's also made it a point to emphasize that he's happy with the deal.