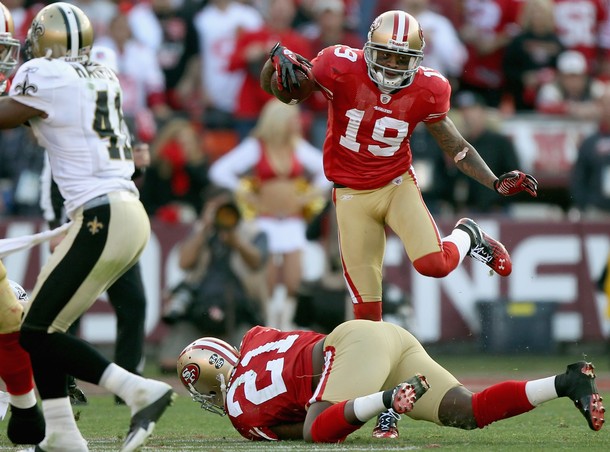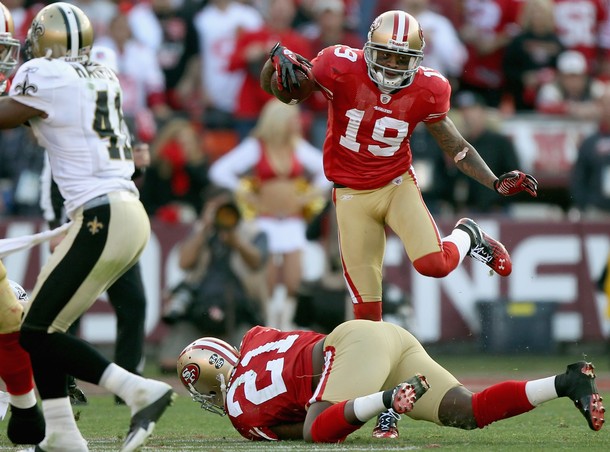 Back in 2010, I wrote on this site that I really wanted to go after the bust from the Miami Dolphins, Ted Ginn, Jr. He certainly owes Devin Hester a Christmas card after the Dolphins took him ninth-overall in 2007, after they got drunk on Hester's bananas 2006 season as a returner. And while he may not have panned out as a wide receiver, he can still return kicks really well.
And that's why I want him as a free agent from the San Francisco 49ers. I want him to come here and return kicks, because you can put kick returner on the list with "linebackers" as a position that has been woefully inadequate the last so many years.
Think about it, when was the last time the Eagles had a good returner on kickoffs? Jorrick Calvin? Jeremy Maclin? Dion Lewis? These are just off the top of my head. I don't even want to actually go back and look and see some names I might find. I had UNLV going to the round of eight, so I'm already a little queasy today and can't take much more.
Remember the debacle that was those two Dallas Cowboys losses to end the 2009 season? I heard a lot of blame going around and most of it was well deserved. The interior of the line was abused. Donovan didn't play his best football. The team just got spanked overall. Yep, all true.
But, one of the things that stood out in my mind, was the fact that it seemed like every drive started at their own 10-yard line. The things I mentioned before were bad enough, but you compound that with awful field position? Forget it. That's when you get, well…two embarrassing losses to end the season. And this is before the new kickoff rules!
Ginn could help change these field position issues and I think it would be in the Eagles best interests to get on the phone with him. He's not expensive and could be a huge boost to this offense. Imagine starting drives at the 30- or 35-yard line. You can't, can you?! I can't either! It's like a fantasyland dream with this team.
Let's do a little exercise (bear with me): Close your eyes, and imagine. Think hard. Try to imagine how many drives you saw that started at the 35-yard line after a kickoff last year. Exactly. My brain shut off at the 25. You know why? Check out the team stats. An average return of 20.9 yards with a long of 33. One word comes to mind: deplorable. You could put me back there and get those results. I can catch it and take a knee.
This is a huge problem and one that Ginn would solve.
However, here's the big problem: I'm not sure he'd come to the Eagles. I've been hoping and wanting Ginn for a while now, but I just saw this quote from him:
"I want to be known as a receiver, not a specialist guy, not a punt returner, kickoff returner," Ginn said. "I want to be known as an actual receiver, and that was some of the things that they expressed in here (with the Lions) for me today that I enjoyed.
"I'm six years in now. I just want to be able to just be a receiver, and special teams is given."
Ugh.
I understand where you are coming from, Ted. But, for the most part, you've been a warm bucket of hamster vomit as a wide receiver in this league. Just accept your role as a specialist and give the Eagles a shot. No, there is not much of a role at all for you on offense, but you'd be a huge shot in the arm to a portion of this team that needs it badly.
Time will tell on this. If the market won't give him the price and the role he wants, maybe he'd be willing to put his tail between his legs and help a team that has a chance to win something (and yes, the Eagles are indeed in that position).
So, with all the talk about adding linebackers and safeties (oh and I'm onboard that ship too, believe me), kick returner is a glaring weakness on this team and has been for some time. C'mon, Howie, at least give Teddy a call.