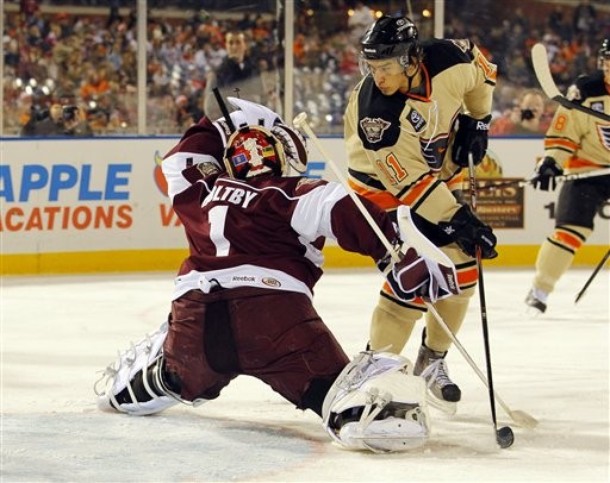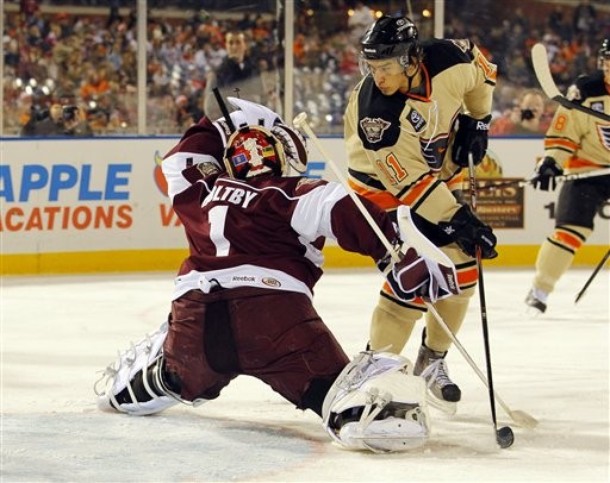 Consider this a warning: this post focuses largely on the Adirondack Phantoms, the AHL farm team for the Philadelphia Flyers.
Tim McManus, beat writer and great source for all things Phantoms, wrote a scathing piece on Friday concerning the Flyers organization's commitment to the team over the last three years. The Phantoms are currently five points out of an 8th place position with 11 games remaining in the regular season.
McManus wrote, "If the Flyers win the Stanley Cup this year, no one in the organization is going to miss a second of sleep over what happened with Adirondack. And I get that. Winning in the NHL is first. It should be. The AHL club is there to support that goal and whatever happens here is gravy… But is it too much to ask for the Flyers to supply Adirondack with something more than the worst team in the league the last three seasons?"
He raises a number of great points, but if the organization owes it to the fans in Glen Falls to field a Calder Cup worthy team (before they move to Allentown), what moves does the organization need to make in the offseason?
One critical point that can't be missed in this discussion is that there are a significant number of NHL contracts coming off the books in July, and the big club would be wise to leave themselves at least two vacant spots so they don't find themselves in the difficult position they were this season. Having to trade prospects and draft picks for "future considerations" to make contract space isn't a good practice to continue.
That means signing more AHL only contracts for the players projected to be no more than third/fourth line forwards (i.e. Garrett Roe) or fifth/sixth AHL defensemen (i.e. Cullen Eddy) while signing NHL contracts with higher AHL salaries to the free agents who can easily fill more of a top six role (i.e. Matt Ford).
The Norfolk Admirals and Hershey Bears, farm teams for the Tampa Bay Lightning and Washington Capitals, respectively, are succeeding with a core of forwards that are unlikely to crack the NHL (or have previously and never made it back). Five of the top seven points producers in the AHL come from those two teams, and three will be unrestricted free agents at the end of the season.
If you add Mike Zigomanis (Toronto Marlies) to the list of the top points producers, three of the top eight forwards rank in the top six in AHL salary, making $300K or more. Ignoring the NHL contracts currently buried in the minors (Michael Leighton, Matt Walker and Oskars Bartulis), the Flyers aren't spending more at the AHL level than $80K (Ford, on a contract they didn't sign).
We all know that Ed Snider has deep pockets. His pocket change would be enough to poach top AHL talent with higher contract offers. The benefit for him to pay for these minor leaguers is that it aids in the development of the existing and future rookie call-ups, who are currently in the position of having to not only make the jump to a tougher league than juniors but are being relied on to provide the bulk of the offense.
Looking ahead, the defense and goaltending are fairly set.
Goaltenders Niko Hovinen and Cal Heeter are under contract but neither has any AHL experience yet, and a hip injury to Hovinen could sideline him in the summer and beyond. An experienced AHL goalie is essential, but they currently have that in Leighton (who I expect will not be back next season) and Jason Bacashihua. 'Cash is probably as reliable as any netminder, but the team would be improved if they could sign one of Yann Danis or Dov Grumet-Morris (Flyers 2002 draft pick).
On defense, the team has Walker, Bartulis, Marc-Andre Bourdon (RFA), Brandon Manning, Blake Kessel, Oliver Lauridsen, Tyler Hostetter and Cullen Eddy. This is assuming that Erik Gustafsson starts next season in Philadelphia. In other words, there's no room for improvement here, but it's a decent mix already. Bourdon, Manning and Kessel provide the Flyers with emergency call-up options.
The offense is where the most work is needed. Andrew Rowe, Mike Testwuide, Ben Holmstrom and Tom Sestito are free agents while prospects Marcel Noebels and Brendan Ranford are expected to join the 2012-13 roster. Noebels is already under contract but Ranford won't be signed until his current season with the Kamloops Blazers is over.
Holmstrom and Sestito could be re-signed while Testwuide and Rowe have become expendable beyond AHL contracts. There's also a question of where Zac Rinaldo and Eric Wellwood will start the season.  Rinaldo will no longer be waiver exempt if he plays just two more NHL games and Wellwood has been very impressive in his recent stint.
Adding just two more top free agents to this pool could propel the Phantoms to where many thought they would be with Brayden Schenn in the line-up at the beginning of the season. The Flyers owe it to the fans in Glen Falls to ice a Calder worthy team for the support they've provided in light of the team having only a handful more seasons up north.
For the latest Flyers/Phantoms news, you can follow me on twitter (@JoshJanet).