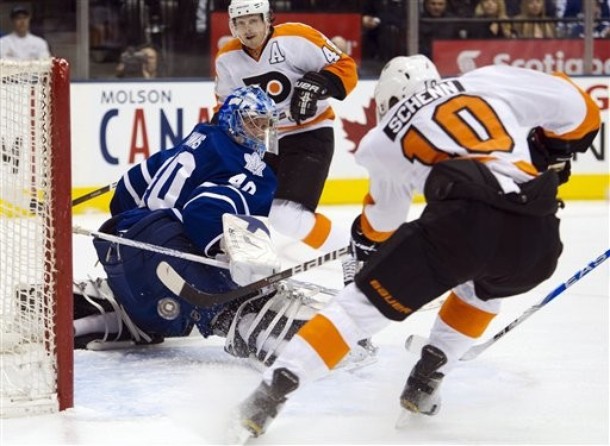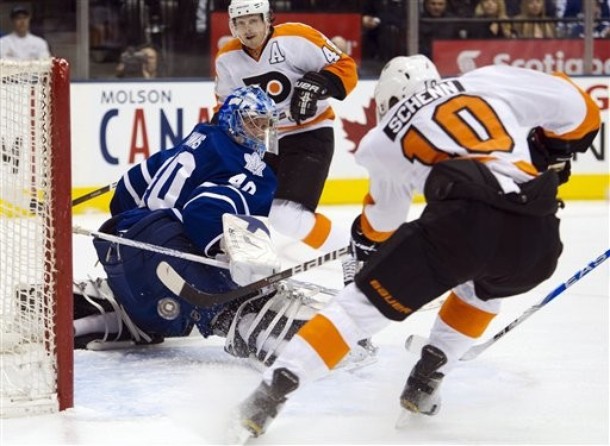 A lot of things went wrong this season for the Toronto Maple Leafs, who were in the mix for a playoff position before nose-diving in the latter half of February and March. As if being mathematically eliminated from the playoffs on Tuesday wasn't harsh enough, back-up goaltender Jonas Gustavsson became injured during the warm-ups before tonight's game against the Philadelphia Flyers, forcing the team to rely on ECHL goaltender (though highly touted prospect) Jussi Rynnas.
The Flyers bagged Rynnas and the rest of the Maple Leafs on their way to a 7-1 victory, gaining a valuable two points against the 4th seeded Pittsburgh Penguins. The Penguins lost tonight to the New York Islanders, cutting the deficit between the clubs to two points.
One of the critical areas that the Flyers have been looking to improve on is secondary scoring. In particular, Danny Briere's line with Wayne Simmonds and Brayden Schenn needs to be firing on all cylinders if the Flyers hope to make a deep playoff run.
That line combined for four goals over the course of the game, with Schenn and Simmonds scoring two goals apiece. Briere assisted on all four goals, marking the first time in his NHL career he's accomplished that feat, surprisingly enough. Coach Peter Laviolette was able to take advantage of the score by limiting the ice time for the top line to under 13:30.
Even Zac Rinaldo had more ice time than Claude Giroux.
Matt Read, Jake Voracek, and Eric Wellwood accounted for the remaining three goals for the Flyers. Read racked up an assist on Wellwood's goal, helping pad his numbers as professional hockey writers begin to fill out their ballots for the Calder Trophy nominations.
In spite of the odds weighing heavily in their favor, the Flyers still couldn't support Sergei Bobrovsky well enough to earn him the first shutout of his NHL career. Late in the first period, Erik Gustafsson became caught too deep in the neutral zone and Mikhail Grabovski took advantage of a flat-footed Pavel Kubina. Racing past Kubina, Grabovski beat Bobrovsky on the breakaway.
Bobrovsky would go on to stop 16 of 17 shots while the team blocked 16 shots of their own.
The remaining five games on the schedule are all against playoff bound competition, beginning with a dreaded matinee game against the Ottawa Senators. History tells us to be prepared for a disappointment against the Senators considering the 1 PM start, but the team retained a lot of good vibes and energy from this win. If they can carry the momentum over, they should be able to close the gap between themselves and the Penguins.
For the latest Flyers news and updates, you can follow me on twitter (@JoshJanet).