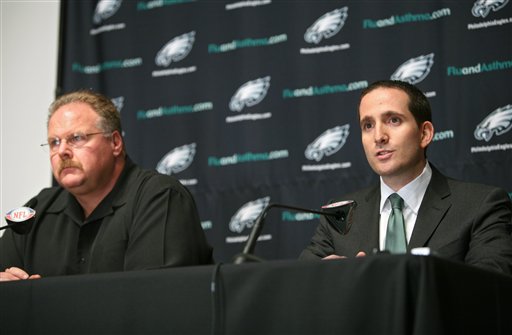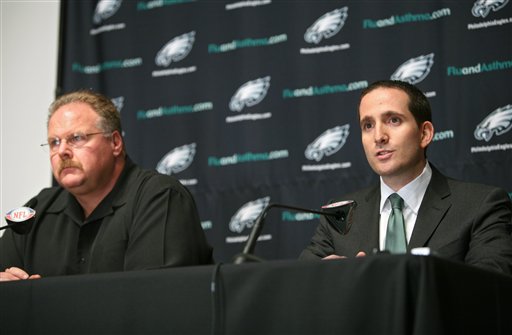 Eagles GM Howie Roseman was on 94WIP yesterday with Rob Ellis and Reuben Frank and he had quite a bit to say.  One of the areas he talked about was the Eagles mentality in approaching this year's draft.  He emphasized the Birds attempt to not be swayed by their needs.
Roseman was asked if the Birds would be interested in drafting a linebacker despite acquiring two-time Pro Bowl middle linebacker DeMeco Ryans or quarterback, despite having Michael Vick under contract for a number of years.
"I don't think you can go into the draft saying that we're not going to take a particular position", Roseman said. "Again, we go back and look at some of the things we've done and try to do a better job. I think one of the the things that we've looked at is, if we go into the draft and say, 'We've got to get this or we're not going to take that.' If there's a player on the board that we think is by far the best player, it doesn't matter the position, we'll take that player".
With regard to picking a quarterback in this year's draft, the Eagles GM didn't deny reports that the Birds could take a signal caller very early.
"You're talking about a priority position going forward", Roseman told Frank and Ellis. "That's always a spot that we look at. You're talking about a guy like Andy who came from the Green Bay system, where they drafted one every year".
Roseman also mentioned Ron Wolf who made sure the Packers always had a young talented quarterback as a back up.  I don't think the Birds can be excited about a guy like Mike Kafka in the backup role because he doesn't have the arm strength to be a big time starter in the NFL.
Don't be shocked if the Eagles select a quarterback in this draft and I'm talking about in rounds one, two or three.