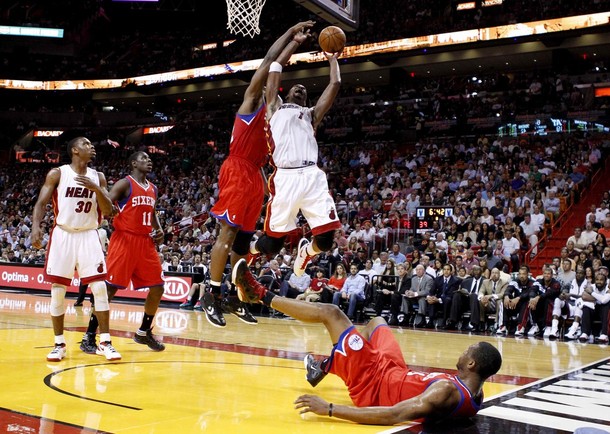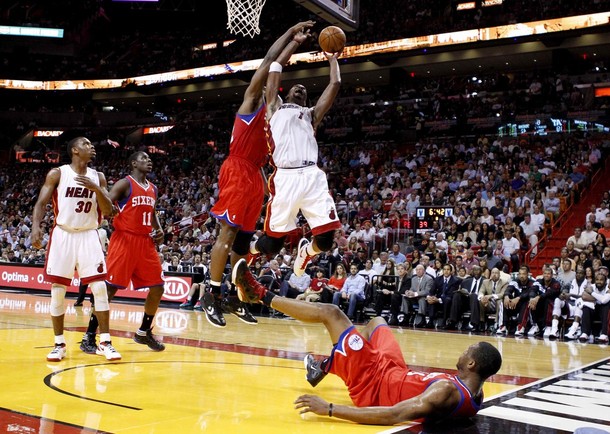 If the Sixer's game vs the Dwyane Wade-less Heat is any indication of the playoff matchup to come, Philadelphia is looking at another early exit this postseason. The Sixer's had 17 turnovers as LeBron scored a season high 41 points in Miami. The loss Tuesday night was the 4th of the season and the 11th in a row against the Miami Heat. The 76ers are losing games at the worst possible time, while other teams in the playoff picture are winning.
For most of the season, the Sixer's had led the way in the Atlantic with a league leading defense and stellar fast break play. This is the team that had fought hard and won games by out hustling their opponents. Now in the final month of the season, the 76ers are looking exhausted. Guys aren't scoring in the paint and getting to the foul line. A team that rarely turned the ball over is now giving up turnovers with sloppy play.
While the Sixer's have gone just 4-6 in their last 10 games, the Celtics and Knicks, once just an afterthought, have both gone 7-3. The Sixer's decision not to add a big man or a pure scorer before the deadline has resulted in an offense that just can't seem to get going. The once hopeful number 4 seed has turned into a number 7 spot and could get even worse if the Sixer's don't gain some momentum.
Philly still has one game left against Boston while playing both Orlando and Indiana twice in their home stretch in what now may be must win games. They also can't overlook teams like the Raptors or Nets like they did with the Wizards last week (even though they assured us all they would not), because every game from here on out is crucial. At this point, Sixer's fans shouldn't just be worried about a first round knockout against the Bulls or Heat, they should be worried about this team even getting into the playoffs.