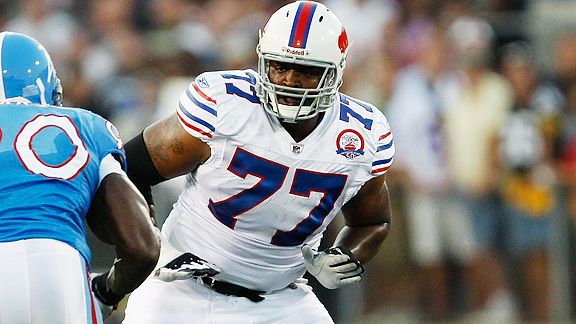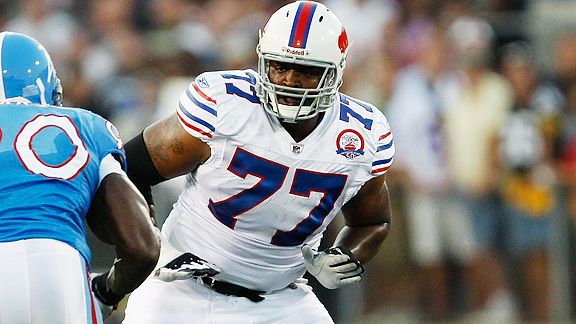 Demetress (yes, that's how he spells it. Apparently, he just found out) Bell took over the tackle position in Buffalo after Jason Peters was traded to the Eagles back in 2009. Now, he's going to be taking over for Peters again.
Bell and the Eagles have agreed to a five-year contract, that just has to be front loaded. I don't know what the numbers are, but either this is a glorified one-to-two-year deal, or they really don't think Peters will make a full recovery.
"Demetress was one of the top free agent offensive linemen available this year and we are happy to be able to add him to our squad," Andy Reid in a statement. "We had a chance to meet him over the weekend and study him extensively on tape and we came away quite impressed with what we saw and heard. He's a great athlete."
Howie Roseman speaks too! Is he excited? I'll bet he's excited!
"Demetress is a guy we've followed since he joined the league," said Roseman in a statement. "He's a big, athletic left tackle and he has quite a few games of experience under his belt with Buffalo. He'll excel with our style of play on the offensive line."
Darn, he didn't say the word "excited." You can usually bank on that.
I'm curious to know what everyone is expecting from Bell. He's been plagued by injuries and I'll be interested to see how he plays with Michael Vick. Bell didn't have to hold his blocks as long in Buffalo because Ryan Fitzpatrick tends to get the ball out on the quicker side (even when it's to the other team). Oh, and they run way more. Vick, as we all know, is back there forever with no consistent drop back pattern.
This isn't to say that Bell won't work here. Not at all. It's just going to be different, and I can't make an apples-to-apples comparison about how his play in Buffalo will translate in Philly. I would say that maybe Reid will run the ball more (insert joke), but he wants to lighten McCoy's workload and we all know that backup running backs don't touch the ball in this offense until it's time to throw a backwards/forwards pass at the goal line.
Well, regardless, Bell is a much better option than (name a lineman on the Eagles that would have filled in, and no not Herremans because you'd still have to replace him on the right side).
UPDATE: From Jeff McLane's Twitter account: "Only the first of the five years Demetress Bell signed for is guaranteed in salary, per an NFL source. #Eagles can cut ties before 2013."