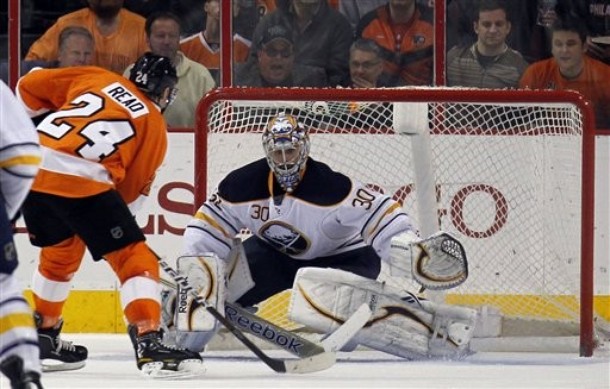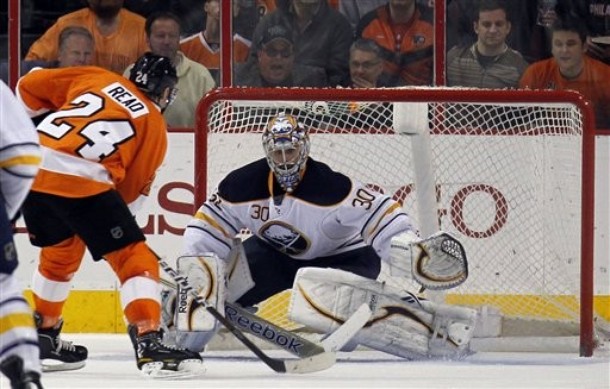 The Buffalo Sabres found themselves in a do-or-die situation ahead of the puck drop at the Wells Fargo Center. Tied for points with the Washington Capitals but sitting in 9th place, a win against the Philadelphia Flyers was critical if they were to continue their quest for the Stanley Cup.
Unfortunately for the Sabres, Matt Read really didn't care.
Tied with one goal apiece, Read brushed off defenseman Robyn Regher at the Sabres' blue line and beat Ryan Miller one-on-one with less than five minutes remaining.
The Sabres had been counted out weeks ago before setting off on an impressive 15-4-4 run, but it was too little too late. It didn't help them that defensemen Tyler Myers joined Christian Ehrhoff on the injured list as of late last week.
Much maligned (or vilified if you're into puns) former Flyer Ville Leino was able to put the Sabres on the board in the second period, outworking Matt Carle in front of the net.
The Flyers had ample "close calls" up through that point, but weren't able to finish. Jody Shelley nearly tallied his first goal of the season as the puck slid across the goal mouth, but the Sabres cleared it at the last second.
Finally, Marc-Andre Bourdon broke through the dam with a fantastic shot from the point. Bourdon still needs a lot of work defensively, but his offensive abilities appear to be untapped.
Coach Peter Laviolette was able to spread the minutes around knowing that, win or lose, the Flyers were already headed into the playoffs. Kimmo Timonen and Carle played the least amount of minutes among defensemen while the top three lines split their respective ice times fairly evenly.
Ilya Bryzgalov played much sharper than on Tuesday, making numerous key saves from post to post. There is a possibility that he may sit on Saturday to rest while Sergei Bobrovsky goes for 6-0 at the CONSOL Energy Center.
Since the New York Rangers can't do anything right, losing to the Pittsburgh Penguins 5-2, the Flyers are locked into the fifth seed with the Penguins sitting in fourth.
The key on Saturday is going to be leaving Pittsburgh in one piece. That goes for both the players and the Flyers fans in attendance.
For the latest Flyers news and updates, you can follow me on twitter (@JoshJanet).