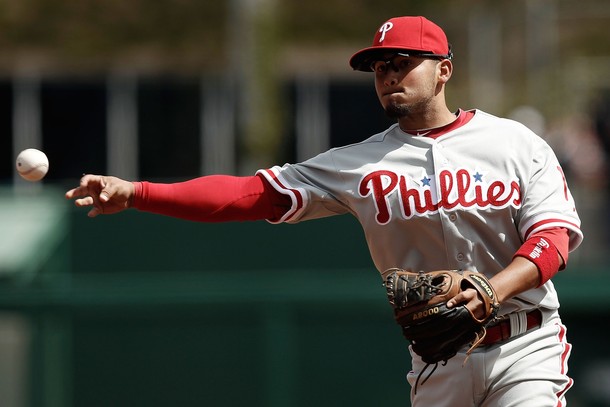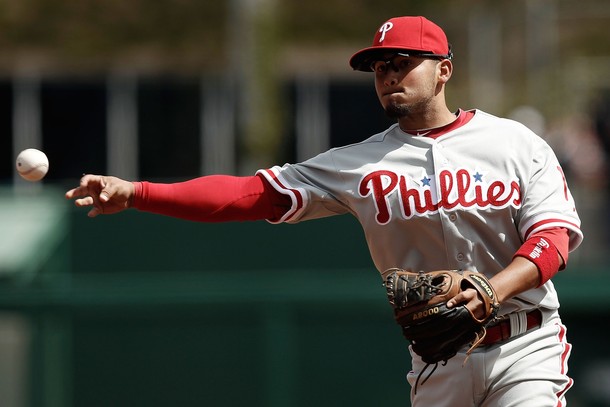 Chase Utley missed Philadelphia's season opener in Pittsburgh Thursday afternoon to rehab his injured knees in Arizona.
With Michael Martinez on the disabled list and Wilson Valdez being dealt to Cincinnati, Charlie Manuel found himself throwing highly touted 22-year-old Freddy Galvis into the lineup. After speculation by many analysts of the Phillies seeking out-of-system help to fill the void of Utley's injury, Amaro Jr was unable to get a deal inked during spring training.
This lack of depth took away a lot of options for the injured Philadelphia based club, but left fans with the hope that Philly's next superstar could take his throne a few seasons earlier than anticipated. The natural shortstop played second base on Thursday afternoon and looked sound in the field.
Jimmy Rollins' perspective replacement had five put outs at his new position and showed some comfortable footwork around second base when turning a double play in the first inning. His major league debut wouldn't be nearly as inspiring in the batter's box.
Blessed by John Mayberry and Carlos Ruiz combing for five hits on the day, Galvis stepped in between the chalk with chances to produce every time he tapped his lumber on the front of his left cleat. The double-A all-star hit into consecutive double plays and grounded out with a runner on in the top of the seventh. He got an alright piece of the ball his second at bat, but consistently peppered the ball to the right side of the infield where it was fielded with ease time and time again.
After Ruiz collected his third hit of the day, Galvis crept up to the plate for his final at bat in the top of the ninth and bunted a letter high fastball foul. The foul bunt evidently threw off his timing and the speedy second baseman didn't swing at another pitch until he chased a changeup for strike three. Galvis finished the game with five runners left on base.
In the future it'd be nice to see him close his stance and try to spray the ball to the right side of the field. He has the speed to easily turn a single into a double, but he has to put the ball where it needs to be in order to utilize that speed.
Galvis isn't the first player to struggle in his debut and he still has a tremendous upside. Based strictly off Thursday afternoon's win, Galvis has a lot of developing to do before Manuel writes his name on the scorecard in pen not pencil.