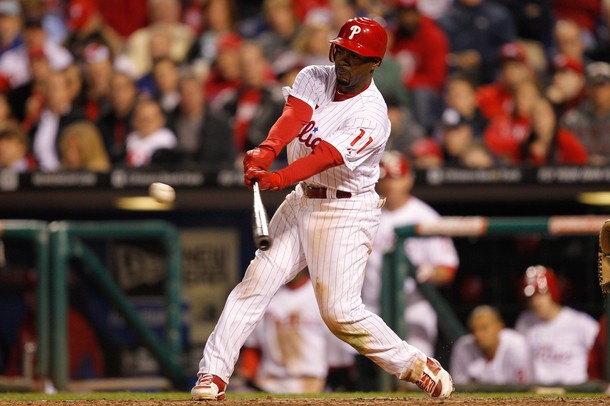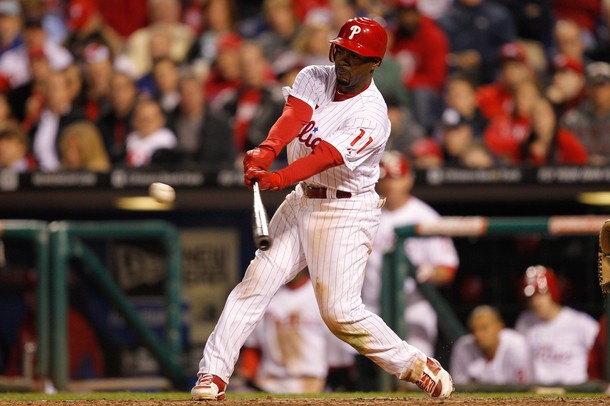 Charlie Manuel promised that we would see a better offense than we had seen in each of the last two games. On Sunday, the manager delivered on his promise with a reshuffled, effective lineup.
Manuel put out a new lineup that he hadn't tried yet this season, giving starts to Juan Pierre in left, Ty Wigginton at third, allowing  little-used bench players Laynce Nix and Pete Orr opportunities to get rare playing time, and giving days off to Placido Polanco and John Mayberry. After seeing his lineup score just two runs and go 0-10 with runners in scoring position in the last two games, the skipper decided it was time to try some fresh faces.
Unfortunately, Manuel's lineup changes couldn't prevent the Mets from jumping out to yet another early lead. Cole Hamels recorded two quick outs to start the first inning, but allowed David Wright to reach with a single, and then gave up a two-run homerun to Ike Davis.
However, unlike the first two games in the series, the Phillies responded in bottom of the first inning by doing a little scoring of their own.
Three straight singles by Juan Pierre, Shane Victorino, and Jimmy Rollins allowed the team to score a run. However, even though they got off to a fast start, Hunter Pence once again squandered an opportunity to make it a big inning. The rightfielder once again came to plate swinging at the first pitch, and nearly grounded into a double-play. The Phillies can't afford to have key hitters like Pence continue to offer feeble at-bats that result in rally-killing double-plays. Pence himself had been guilty of doing so several times in this series alone.
After giving up the early homer, Hamels  shook off his only blemish of the day, and allowed just four hits in his final six innings, and finished with 10 strikeouts. He bounced back from a subpar first start against the Marlins, and delivered an excellent performance against a team that he has struggled against throughout his career.
The Phillies bats wouldn't waste the gem pitched by Hamels. The offense put on two big rallies in the late innings that proved to be the difference in the game.
In the seventh inning, Ty Wigginton and Laynce Nix would take advantage of their opportunities to play hero. Wigginton drove in the tying run with a sacrifice fly that scored Jimmy Rollins. Nix stepped up next, a recorded an RBI double to give the Phillies their first lead of the series.
The offense came back to score five more runs in the bottom of the eighth. Pete Orr led off the inning with a double, Placido Polanco reached base on a throwing error, and Jimmy Rollins walked to load the bases for Pence. Pence had been struggling throughout the series, but he recorded two hits in this game, and drew a walk with the bases loaded to force in the team's fourth run of the day. The next batter, Ty Wigginton, came through with a bases-clearing double to put the game out of reach. John Mayberry then drove Wigginton in with an RBI single.
Charlie Manuel successfully juggled his lineup around on Sunday, and it resulted in a rare eight-run explosion. Guys like Nix and Wigginton can't be relied on to produce every day, but it was good to see them provide a spark that helped avoid a sweep at the hands of the Mets.