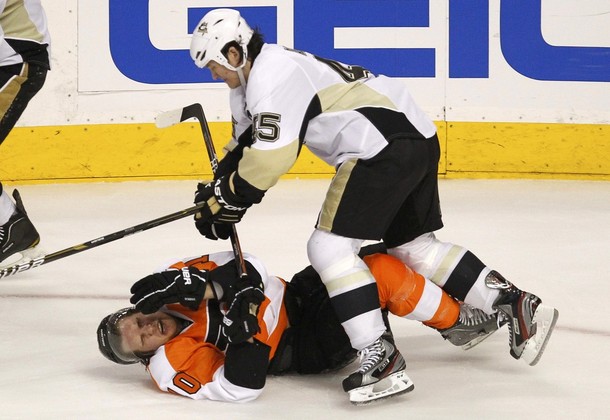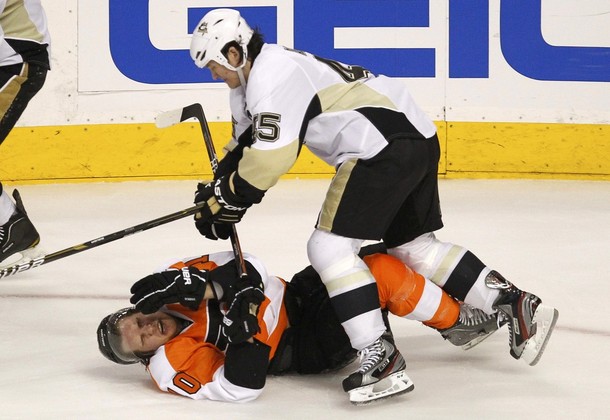 The NHL has made several announcements today regarding the incidents that took place during the Stanley Cup Quarterfinals Game Three between the Pittsburgh Penguins and the Philadelphia Flyers.
Penguins forward Craig Adams has been suspended for one game and coach Dan Bylsma has been fined $10,000 for Adams' "instigation" of the fight with Scott Hartnell at the 4:42 mark.
The suspension and fine are automatic for players who commit an instigator penalty with less than five minutes to play in the game. Dan Carcillo and former Flyers head coach John Stevens learned this the hard way in 2009 during the Quarterfinals Game One against Pittsburgh.
The NHL has also announced that an in-person hearing has been scheduled with Arron Asham as well as a two phone hearings with James Neal. Asham was responsible for cross-checking Brayden Schenn in the throat and then punching him in the head while he was down on the ice. Neal was responsible for  leaping shoulder first into the head of Sean Couturier when the puck was nowhere near him, and then attempted to do the same to Claude Giroux shortly thereafter.
In-person hearings usually result in multiple game suspensions. Asham is done.
Phone hearings could go either way. Neal is a repeat offender, so a suspension of one to two games wouldn't be unheard of, but he is one of a handful of Penguins providing offense for their club right now. Schuyler Baehman, the NHL Senior Manager of Communications, announced via twitter that yesterday's TV ratings were the best for a Quarterfinal game in eleven years and "the best for any non-Final playoff game in a decade."
In other words, a ton of people watched Neal attempt to brain two previously concussed players.
There is a lot of pressure on Brendan Shanahan, the NHL's Vice President of Hockey and Business Development and head disciplinarian, to get this one "right," though the definition of that word depends on whether you live inside or out of the Pittsburgh city limits.
I would suspect Neal gets a one-game suspension and a $2,500 fine, but that's just speculation.
At the other end of the ice, the Flyers' coaching staff completely failed in their reaction to the hits on Schenn, Couturier and Giroux.
Ryan Lambert of the Yahoo blog Puck Daddy wrote an excellent piece about the current culture in the NHL with regards to concussions.  Which is to say, in spite of everything that has taken place around the league all year, nothing has changed.
He focused on the season of Flyers defenseman Marc-Andre Bourdon, who tried to play through a concussion earlier this year. He has missed Games Two and Three with an "upper body injury" that many suspect is yet another concussion.
Lambert wrote, "A player is a player, and a concussion is something that should be treated seriously regardless of whether it's a star or a borderline NHL rookie."
Lets recap.
Brayden Schenn was hit in the head at the 14:15 mark of the first period. He returned to the ice at the 16:15 mark, or two minutes later.
Sean Couturier was down on the ice after being hit with a considerable force from Neal at the 14:40 mark of the third period. He returned to the ice at the 16:19 mark, or one minute and thirty-nine seconds later.
Claude Giroux was hit by Neal at the 15:18 mark of the third period. He did not return.
Each of these players had missed time this season from a head injury, and yet two of them were thrown right back onto the ice. What happened to going to the "Quiet Room" for evaluation? What happened to player safety?
While every concussion is different, it's well known that symptoms may not appear until several days after head trauma has been initiated. Just because a player says "I'm OK, coach" doesn't mean that he's OK.
It doesn't matter that it's the playoffs. It doesn't matter how much these players want to win. The organization has a responsibility to pull them off the ice after a violent head collision and hold them out of the line-up until they can be properly evaluated.
Hopefully there will not be any future offseason reports that Flyers were hiding symptoms in order to keep playing. If anyone knows the futility and danger of walking down that path, its Ian Laperriere.
For the latest Flyers news and updates, you can follow me on twitter (@JoshJanet).