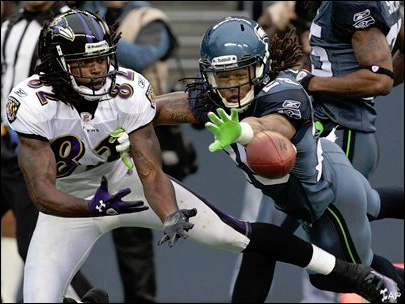 It's good news that the Birds are talking about selecting the best players when they draft rather than picking players to satisfy their needs.  It's easy to let the team's needs persuade you that a player is better than he is.
The Birds are going in the right direction, but I would like to see them go further by creating and establishing what they feel is a prototypical Eagles defensive player.  I think Andy Reid has done that on the offensive side of the ball whether Eagles fans like it or not.
For instance in Pittsburgh, they know what a Steeler defensive player looks like.  He's tough, smart and committed.  They know what type of defense they want to play, so they know what type of player they're looking for.
I want them to commit themselves to the type of defense they want to play so that they can describe the prototypical Eagles defensive player.
Maybe that player has some of the qualities of Brian Dawkins.  After all, the Eagles utilized a defense which majored in utilizing the versatility of the safeties by having them blitz, cover backs, tight ends and  receivers, as well as move up into the box and defend the run,
If the Birds had been looking for another Dawkins they would have drafted Seattle safety Earl Thomas a couple of years ago, rather than Brandon Graham.  He was a passionate, playmaking and hard-hitting safety, who has the ability to take over a game.
The former Texas star seemed to be a replica of Dawkins.  Thomas has already been a Pro Bowler, while Graham hasn't done much yet and the Birds still need help at safety.
Maybe we'll see that new middle linebacker DeMarco Ryans is the kind of guy they want to duplicate.  Maybe it's hardworking
defensive end, Trent Cole, who represents the type of players they want to collect.
On the offensive side, you can see the players and the formula year and year out, which Reid has used to be successful.  They know what kind of player they're looking for but I don't believe they have that same clarity on the defensive side of the ball.
After LeSean McCoy's freshman year, I heard that Reid liked him.  I could tell you that he was a Andy Reid type of running back.   He was quick and elusive with great vision.
You know Brian Westbrook caught Reid's eye at Villanova because he could run the ball, catch it, and make people miss.
We all know that Reid doesn't like those big bruising running backs and he never will. He knows what he wants to do offensively and he knows that guy won't fit in the plan.  He and the Eagles need to have that same clarity of vision defensively.