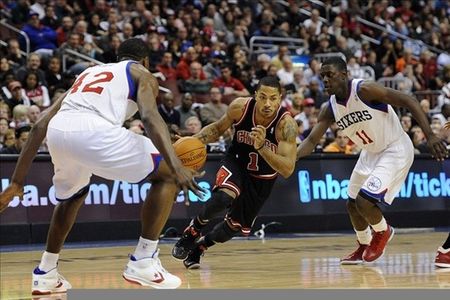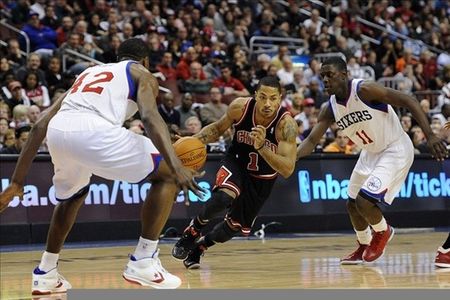 Alright ladies and gents, the Sixers and the Bulls open up the NBA playoffs at one o'clock today. This is the team whom the Sixers wanted all along, especially after realizing that they were not going to finish any higher then the 7th seed. Sixers would have been an awful match-up against the Heat. They knew it and so did Evan Turner. He came out earlier in the week and said that the Sixers wanted the Bulls. Then when he was questioned, he said that he was taken "out of context".
Every athlete's favorite answer is "out of context." I know some peeps are happy that the Sixers are in the playoffs and some are not. I can see both sides of the argument to be honest with you. The Sixers are about to start the playoffs whether you like them or not. So with that said I figured to give a little breakdown of the series just for the hell of it…
Back Court
Rose/Hamilton/Deng vs. Holiday/Meeks/Iggy
Sixers
Jrue Holiday- It has been up and down all season long for him. He has played better of late though shooting the ball at a 46% clip in the month of April.
Jodie Meeks- Doug's love child. He is in there for two things, spread the floor and knock down an open shot in which he has struggled with all season. At best he has been streaky.
Andre Iguodala – Some might not like it but, other than Thad, he has been the best Sixer. Yes, he will drive you insane at times on the offensive end but he will defend the hell out of you. He can be very explosive in the open court.
Chicago Bulls
Richard Hamilton- He has only played 28 games this year battling injuries all year. He is not the same Rip we used to know but still can knock down an open shot.
Loul Deng- The dude is a very solid player. He can defend and score, and has a better offensive game than Iggy. Not as good as a defender as Iggy but still good.
Derrick Rose- He might be the best finisher in the game. If Rose is healthy, watch-out. That has been the issue. He has missed 27 games this year. Rose at 75% is still a very good player. He is still dangerous either way.
Advantage Bulls
Front Court
Boozer/Noah vs.  Brand/Hawes
Sixers
Elton Brand has been a professional through and through. The guy gives you what ever he has left every night. He's had a very solid season defensively.
Spencer Hawes- I guess we found out that the first month of the season was a fluke. He misses way too many bunnies and gets pushed around on the block. He will likely come off the bench.
Bulls
Boozer- He is a younger version offensively of Brand and has that nice little 'J' off that pick and pop. He also has good touch around the rim. He is an overrated rebounder.
Noah- He is just a ton of fun to watch. He will take a jumper, which is the ugliest jumper in the NBA that you will just laugh at. Noah on the other end is a beast. He will annoy the hell out of you with his screaming and determination the defensive side.
Advantage Bulls.
Bench
Watson/Gibson/Lucas/Korver/Asik vs. Thad/Lou/Turner/Vuch/Allen
Bulls
C. J. Watson- He has had a very nice season feeling in for when Rose is out. At 40%, he can really knock down the three.
Taj Gibson – The dude can score and defend. A big man off the bench that can do that is always nice.
John Lucas – He is a decent guard coming off the bench.
Kyle Korver – He still remains a deadly sniper. He is shooting 43% from down town and still loves to find that three point-line on the fast-break.
Omer Asik- He really has not done much this season, but has not played much either.
Sixers
Thaddeus Young- He is my MVP of the Sixers this year. You always know what you are going to get out of him every single night.
Lou Williams – He is the first player since Del Curry did it for the Hornets to lead his team in scoring from the bench. Hopefully, Lou does his damage in the flow of the game. As good as he has been at times this year he has hurt them with his relentless dribbling, just killing the flow of the offense.
Evan Turner- Doug's whipping boy. He could be an "X" factor. The Sixers will need his playmaking skills against the NBA best defense. Though what Evan will show up?
Nikola Vucevic Vuch and Lavoy Allen- It is their first taste of the playoffs. Who knows what you are going to get out of them.
Advantage Sixers.
Prediction.
As good as the Sixers defense is the Bulls are better. The Bulls are number one overall. They are great at forcing you to scheme differently on every possession. They actually played very well without Rose this year going 17-10. The Bulls are great at forcing turnovers but the Sixers do not turn the ball over. They just broke the record for the fewest turnovers in the shot clock era with only 11.2 a game. The Sixers can run and so can the Bulls. The match-up is not all that bad for the Sixers. I believe that they can give the Bulls some problems. I am banking on Collins only having to game plan for one star, rather than two. In the end though, the Bulls have some guy named Rose….
Bulls in Six.