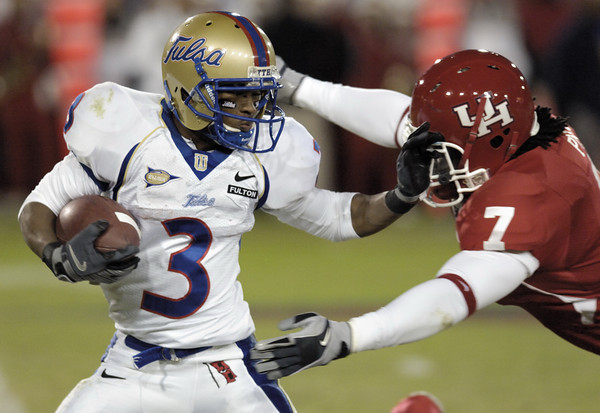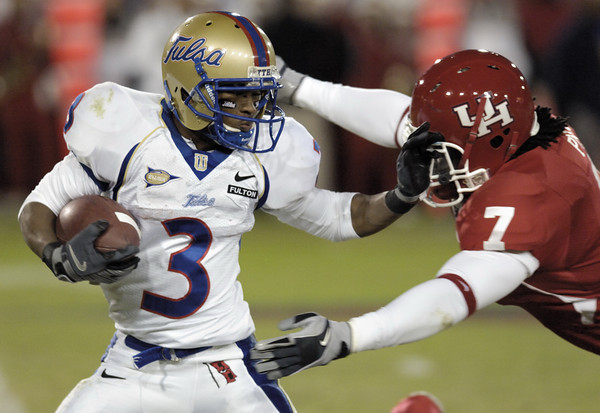 Most of these guys are just filling out the roster with a remote chance of making the football team, but there a few of these players who have a legitimate chance of making the roster.  Here's a look at all 13 of them.
WR Damaris Johnson (5-8, 170, Tulsa)
This young man has a chance to make this football team if he can pick up the offense.  He didn't play football in 2011 because he was convicted of paying only $14 for $2600 worth of merchandise at a store where his girlfriend worked.  He received a deferred sentence.
As a junior, Johnson became the NCAA's all-time leader in all-purpose yardage  with 7,796 yards gained.  Johnson set the NHe had 3417 yards as a kick returner.   He caught passes for a total of 2,746 yards.  Johnson ran for another 1,062 yards during his career rushing yards.
FB Emil Igwenagu (6-2, 245, Massachusetts)
Igwenagu caught 38 passes for 375 yards and three touchdowns a year ago at UMass.  He's got leadership qualities as a two-year team captain.  He's also versatile.  The fullback played running back, tight end and linebacker during his time as a Minuteman.
This young man could make the Eagles roster, if he can prove himself as a blocker and receiver.
FB Jeremy Stewart (6-1, 218, Stanford)
Stewart was the lead blocker in that tough, physical Stanford running game.  He ran 55 times for 257 yards and nine touchdowns, but he caught only seven passes for one touchdown.  Stewart has a chance to make the football team, if he can be an effective blocker and pass receiver.
WR Elvis Akpla (6-1, 190, Montana State)

Akpla is a possession receiver, who caught a school record 126 passes for 2,270 yards in his career at Montana State.  He majored in cellular and molecular biology, which means he could probably learn the west coach offense.
LS Matt Camilli (6-4, 245, UTEP)
Camilli was first team, All-Conference USA this past season.  He's coming in here to try to take the job of the Birds current long-snapper Jon Dorenbos, who also went to UTEP.
TE Chase Ford (6-6, 245, Miami, FL)
He's got to be a very good blocker because his receiving stats are nothing to write home about.  He caught a total of 16 passes for 184 yards and two touchdowns over two years at Miami.
CB Cliff Harris (5-11, 180, Oregon)
Harris picked off six passes during the 2010 season and returned one of them for a touchdown.  He's also a punt returner which could help him in trying to make the Eagles roster.  He returned 29 punts for a 18.8 yard average and four touchdowns, which is outstanding.
WR McKay Jacobson (5-11, 199, BYU)
Jacobson is supposed to have a good set of hands.  He caught a total of 113 passes for 1,836 yards and 9 TDs at BYU.
WR Aaron Pflugrad (5-10, 182, Arizona State) … pronounced FLU-grad
Pflugrad caught 96 passes at Arizona State for 1,241 yards and 8 touchdowns.  He played at both Arizona State (2010 -11) and at Oregon (2007-08).
RB Chris Polk (5-11, 222, Washington)
Polk is a pretty good running back, but the only way he makes this team is because of his pass catching ability and effectiveness in picking up the blitz or special teams.  He caught 31 passes in 2011 and ran for 1488 yards with 12 touchdowns.
Polk ran for 4,049 yards during his career at Washington.
FS Phillip Thomas (5-11, 198, Syracuse)
Thomas is on the small side for safeties, but he led Syracuse with 82 tackles while picking off six passes in 2011.  The Eagles aren't yet set at the safety position, so he's got an outside shot at making the team.  He must be productive on special teams.
P Ryan Tydlacka (6-1, 190, Kentucky)

He punted for a 43.6 yards per punt average this past year.  He's got a strong leg as he boomed 20 punts for at least 50 yards, which led the SEC.  He also placed 19 punts inside the 20 yard line, which is close to two punts a game.
WR Darnell Williams (6-2, 195, Louisiana College)
He was the leading receiver at Louisiana College.  He caught 62 passes for 1,101 yards and 10 TDs this past season.