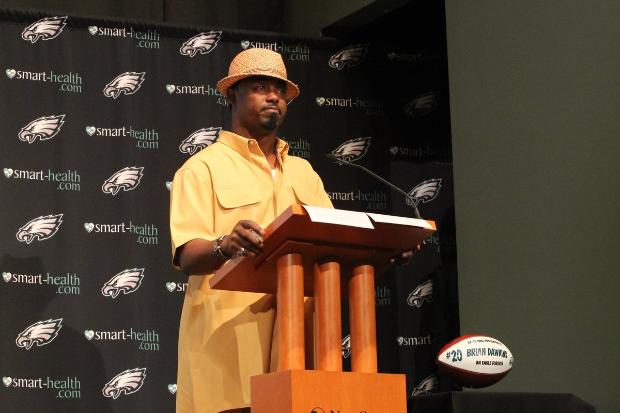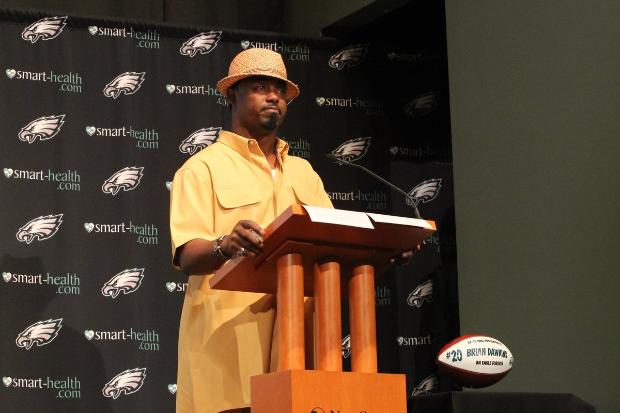 I think the Eagles would admit that they misjudged the popularity of Brian Dawkins here in Philadelphia, as well as his ability to still play football.  The absence of Dawkins on the Birds' roster hurt the Birds for the last few years because they haven't been able to find a star level safety, since he left.
The Birds made amends on Saturday with their Brian Dawkins retirement news conference.  Eagles owner Jeffrey Lurie was there to announce that Dawkins #20 jersey will retired on September 30 before a game between the Eagles and the defending champion New York Giants.  Head coach Andy Reid was there and he started the push to put Dawkins into the NFL Hall of Fame.
The Birds had a group of season-ticket holders there to witness the event and get the chance to meet Dawkins.  Dawkins made it a point to speak to the passionate Eagles fans who loved him so much.
"I wore my emotions on my sleeve", Dawkins said while fighting back the tears. "You can tell in the video that that's who I was. It wasn't an act . . . I'm a passionate cat about the thing that I did for a living for that long . . . [fans] knew that everything I said was coming from my heart."
Former Eagles like Donovan McNabb, Correll Buckhalter,  Jeremiah Trotter, Tra Thomas, Ike Reese, Darwin Walker, Mike Mamula and current Eagles coaches Duce Staley and Mike Caldwell, who all played with Dawkins were there as well.
Dawkins signed a one-day contract with the Birds before retiring.  He spoke about leaving the game on his own terms.
"As I walked down the aisle, you didn't see me limping and you didn't see my shoulders sag to one side or the other. My body is healthy and I feel great", Dawkins said during his remarks.
Dawkins' #20 will join the ranks of Eagles uniform numbers which have been retired.
The Philadelphia Eagles have been in existence a long-time and a lot of people have worn that number", Dawkins said.  "To know that now, because the Lord blessed me to play this game, nobody will ever wear it again…. what an honor, what about honor."
Number 20 will be the eighth retired jersey in franchise history. Here's the rest of the list:
15 – Steve Van Buren, 40 – Tom Brookshier, 44 – Pete Retzlaff, 60 – Chuck Bednarik, 70 – Al Wistert, 92 – Reggie White, 99 – Jerome Brown
Here are the 17 players who wore #20 in an Eagles uniform prior to Dawkins:
1. Alex Marcus, 2. John Lipski, 3. Clyde Williams, 4. Howard Bailey, 5. Pete Stevens, 6. Jim MacMurdo, 7. Henry Reese, 8. Elmer Hackney, 9. Don Stevens, 10. Bibbles Bawel, 11. Jim Harris, 12. Frank Budd, 13. Leroy Keyes, 14. John Outlaw, 15. Leroy Harris, 16. Andre Waters, 17. Vaughn Hebron